Parquet Courts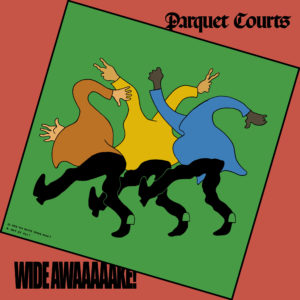 Wide Awake!
ROUGH TRADE
8/10
The term "woke" has been around for quite some time, but it recently took up significant cultural relevance, if not meme-like status, in our polarizing political climate. Wide Awake!, the sixth album from New-York-via-Texas punks Parquet Courts, evokes the kind of urgency that "woke" implies without the eye-roll-inducing passivity. The thirteen tracks contemplate unnecessary violence and corruption of both authority and personal character.
On the record's second song, "Violence," reminiscent of The Doors and Parliament, believe it or not, Andrew Savage sings about the decomposing moral compass of civilization and conforming to the nauseating status quo while the 1 percent is replenished and mother nature perishes. It's one of the best off the album, with copious metaphors about vicious and casual harmfulness, beginning with: "Violence is the fruit of unreached understanding that flowers from the lips of scoundrels."
Wide Awake! finds Parquet Courts spreading themselves in multiple genres, developing as many formulas as possible for corporeal mobility—and by that, I mean not just dancing, but physical reactions, from excitement's range of kicking and screaming to pliés of joy. As Savage put it in a press release, Wide Awake! is "expressing anger constructively but without trying to accommodate anyone." Parquet Courts are practicing a kind of self-care: the self-care of rebellion, of questioning, of not taking things at face value; the self-care to use movement as a protest against the immensity of apathy for human life.
Although primarily made in Tornillo, Texas, with producer Danger Mouse, the record draws this animation and optimism from New Orleans. One single is even called "Mardi Gras Beads," which have since been revealed as a sort of charmed talisman for Austin Brown. Thrown from one hand to another, the beads are a symbol for finding one's path in this wonky world with the help, buzz, and push from others. And while there are moments of deep contemplation on the album—for example, the wondrously psychedelic "Normalization"—Wide Awake! feels communal, too, with cheering on the title track and the choir of youth on "Death Will Bring Change."
Wide Awake! is an album of Ands; it is perhaps about coexistence, but more importantly about embracing the gray areas. They've found both the anger and joy. "I enjoy a belligerent expression of pure, immediate disgust, but I wanted something that was more constructive," Savage explained to GQ. Here, Parquet Courts continue to find new oppressions and societal dilemmas to pinpoint, new musical ancestors to pay homage to, and new ways to dance.