Lykke Li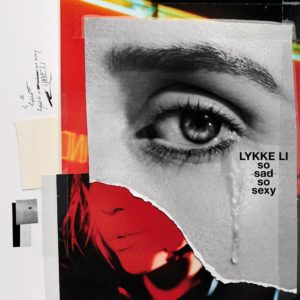 so sad so sexy
RCA
6/10
For real goths, suspicion generally surrounds the occasional "pop goth" found climbing their way up the Billboard Hot 100. Phantogram and Chvrches, make no mistake, are merely pop groups bathed in the occasional light of the full moon. But perhaps owing to her Swedishness, Lykke Li stands as that rarest of musical entities, one who wears her darkness in absolute earnest, despite her skill with an enchanting musical hook.
Her fourth album is tellingly titled so sad so sexy. Depression, surely, is always sad; but sadness can often be sexy (see: Robert Smith)—as is immediately evident on opening track "hard rain," where Lykke plays counter to coldly robotic glee-club harmonies, purring, "If you like the feeling of a hard rain falling / I have a sea-full, I can give you an ocean." But the song's mournful, esoteric synths have a distinctive chill—as if she's been spending quite a lot of time with early Sigur Rós records. (Again, maybe a Scandinavian thing?) She can also slip into her sultry self without a pause, as in the R&B slink of "deep end," skillfully punctuated with a few post-punk aesthetic signifiers.
She's less effective as a balladeer, like on "two nights," and the rapping interlude by Aminé sounds terribly obligatory. But all is gloriously redeemed with the techno-folk of "jaguars in the air," her wistful vocal eccentricities shining brightly against a movingly spooky soundscape. Her lyrical promise of "Jaguars in the air / (If you dream it, you can have it)" is also immensely enticing; rest assured, whatever that is, you'll want to be a part of it.
Even if you don't 100 percent buy into all of Lykke's dark/light kooky mysticism, sonically and emotionally, so sad so sexy is what it promises.