Ariana Grande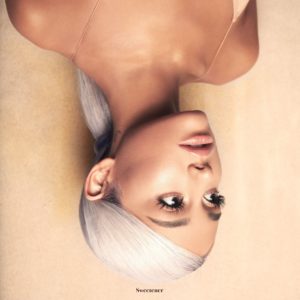 Sweetener
REPUBLIC
7/10
Sweetener, the fourth album from Ariana Grande, opens with a glass-shattering belt that not only stops us mere humans in our tracks but probably the gods above too. "raindrops (an angel cried)," a cover of the Four Seasons' 1964 track, sets the tone for an album about hope in the face of unforgettable sorrow (this is Grande's first album since the horrific Manchester Arena bombing). Although on the surface Sweetener can feel underwhelming compared to its emotional intro, the trap-pop coating is only superficial—underneath lies the vulnerable flesh Grande is still tending to.
The epic opener rolls into the bouncy, care-free "blazed," featuring Pharrell; its buoyant pings and galloping hi-hats are the first of many signature Pharrell sounds on the album. One Pharrell-produced instant classic is named after the state in which our most vivid dreams materialize: "R.E.M" details Ari's dream man that she met while asleep. With steamy sighs and cool-mannered snaps, we enter a magical realm where Mr. Sandman dwells. However, aside from leading Ariana out of her soul-music and Top 40 comfort zone, Pharrell is unexpectedly the weak link elsewhere on the album.
Half of the time, Sweetener's production doesn't seem to fit Grande's avalanche-inducing, iridescent voice; the two are almost at war with each other. The most refreshing tracks that emphasize the belter's talents without undercutting or letting them overtake the songs happen to be produced by Ilya Salmanzadeh in collaboration with Max Martin or Scootie. Only when "God is a woman" or "pete davidson" cut through the Pharrell fog did I realize I had been slightly bored.
Sweetener is a pop remedy for anxiety, while also explicitly detailing its crippling nature. "They say my system is overloaded / Girl, what's wrong with you? Come back down," she sings on the multi-part harmony that climbs to cloud nine on the closer, "get well soon." "Is there anybody else whose mind does this?" she continues. It's one of the strongest tracks on the album, detailing out-of-body moments, struggles with dissociation, and the necessity of talking openly about mental-health struggles.
The heart of Sweetener is genuine and endearing. It's when Ariana's giggles peek through on the ad libs of "everytime," or the way she opens up about her trauma, or when she demands happiness on a song named after her new fiancé, praising her brain ("I thought you into my life, look at my mind"). It's the wonderful reboot of Imogen Heap on "goodnight n go," with a harmonic bridge that lifts you off your feet like fairy dust. Grande is at her best when she's declaring her strength or exposing her vulnerability, letting her own divinity shine down.