"Cute" carries a lot of weight for such a small word. In its earliest usage, dating back to the eighteenth and nineteenth centuries, it was a shortened form of "acute," meant to describe something—or someone—as sharp and clever. By the early twentieth century, its meaning shifted to more of an aesthetic judgement, meant to describe something attractive with childlike sweetness. It's this definition that caught on in Japan in the early 1970s as kawaii, which quickly became an all-or-nothing standard of beauty that girls and women were measured against.
The members of Japanese art-rock group CHAI remember what it was like to grow up with such suffocating cultural ideals. They were tired of being made to feel ugly for not falling in line with the cookie-cutter kawaii features that favor large eyes, pale skin, and a delicate frame. So they decided to challenge the idea of what it means to be "cute" in the first place. Enter neo-kawaii, or the "new cute," a message the quartet promotes that proclaims: "We're all cute in our own ways."
"Things that don't fit into one beauty standard—like not being skinny or having smaller eyes—are the things that have beauty within themselves," drummer Yuna says, speaking through a translator, as does the rest of the group. "It shouldn't be that we have to fit into something we don't necessarily have. So we are the new cute."
CHAI was first assembled informally in 2012 by twins Mana (keys and vocals) and Kana (guitar and vocals), their high school friend Yuuki (bass), and college classmate Yuna (drums), all joining together over a shared love of music and a desire to rail against the kawaii status quo. Upon graduation in 2016, the group moved to Tokyo to pursue the band as more than just a hobby, at which point they began to garner a cult fandom in Japan for their eclectic sound, a mix of synth-fueled pop, dreamy New Wave, and shouty riot grrrl punk.
And neo-kawaii isn't just a talking-head message or marketing ploy in the age of prepackaged female empowerment. CHAI embodies the concept wholeheartedly, from their genre-defying music to their carefully curated aesthetic. Drawing inspiration from the likes of Basement Jaxx, Tom Tom Club, and Devo—groups that have also crafted their own signature, unconventional sounds that defy the pop landscape—the band plays preconceived definitions of cute against each other to create their own new one.
"You can be fifty or you can be twenty-five—you should be able to wear pink if you want. Pink is not a cute thing, it's a cool thing."

—Yuuki
Sweet, sing-song melodies are crafted around witty lyrics, jagged guitar riffs, and propulsive synths on songs like "Boyz Seco Men," which mocks lazy men attempting seduction. On "Horechatta," they pen a dreamy slow jam professing their love of dumplings. Why write artifice about experiences they have yet to go through just to fit into pop norms, the band reasons, when they could dig into something they think about everyday, like food?
On stage, the band creates a high-energy dance party with choreographed moves that show off their pink uniforms—an aesthetic choice acting as a sly middle finger to social norms that frown upon anyone other than little girls wearing the hue.
"We feel like, no, that's not really right," Yuuki says. "We should be able to wear pink whenever we want to. You can be fifty or you can be twenty-five—you should be able to wear pink if you want. Pink is not a cute thing, it's a cool thing."
2018 has been a whirlwind year for CHAI, as they begin to make inroads in the Western musical world. In March, they played a couple of buzzed-about shows at SXSW—their second year in a row at the Austin festival—and in early September, Burger Records put out a rerelease of their debut album, Pink, on vinyl in the US. After finishing up a few shows Stateside, they're heading to the UK to tour with the internationally affiliated experimental pop group Superorganism.
The band is still humming with a morning-after buzz following their show at Rough Trade NYC when we meet up the next day at Café Grumpy in Brooklyn. The coffee shop is shrouded in anxious silence punctuated only by the intermittent roar of an espresso machine and the sound of people typing purposefully on laptops until the four of them walk in. The energy of the room changes, and, with the same giddy enthusiasm heard in their music, they marvel at how much has changed since the last time they visited the States in 2017 as part of a small tour with other Japanese acts.
"This was our first time headlining in New York," Kana explains. "This was a real show for us—I was so worried only ten people would show up." A few more than ten people did show up. The band was met with a packed house, and fans even approached them afterward to model their own pink outfits and pigtails.
"People are now singing the lyrics that are in English, but they also sing some in Japanese!" Yuuki exclaims, recalling the audience's embrace of unofficial neo-kawaii anthem "N.E.O.," with its shouty English chorus of "You are so cute! Nice face! C'mon! Yeah!"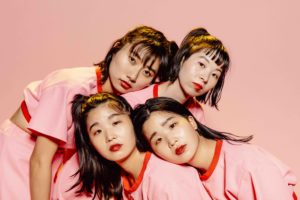 "That's crazy," she continues. "We want to cry but we don't want to show that we're crying on stage, so we try to keep it together. That's kind of hard when we're so happy that people actually respond to our music, especially in another language."
As if that wasn't enough excitement, they reveal their surprise that they've suddenly started meeting so many of their artistic heroes, delighted to see that the admiration is mutual. The group dissolves into ecstatic chatter recalling their surreal meeting with Devo a few nights prior. "A dream come true! Oh my gosh! Amazing! It doesn't even feel real!" they say over each other.
It's this kind of genuine exuberance that pushes CHAI forward. "We don't want to be known just as a Japanese girl band," Kana says. "We want to be known as a worldwide band, and we want to change the standards of cute all over the world." FL
This article appears in FLOOD 9. You can subscribe to the magazine here.