Stumped on what to buy someone on your gift list? Here at FLOOD, we polled the staff and put together our own picks for what we'd like for holidays. Humble? Hm, not exactly, but hopefully here are some helpful hints for the gastronome friend who has everything.
---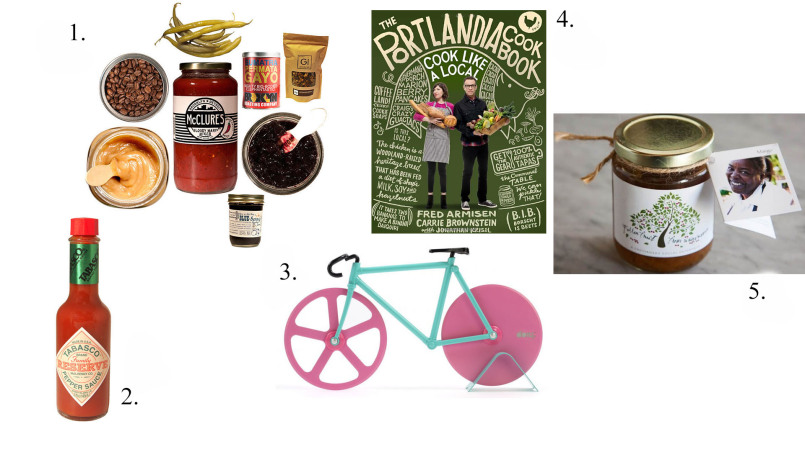 1. MOUTH: Brunch in a Bag
$80
mouth.com
For an event that generally takes place before noon on a weekend, brunch can really be a lot of work. For starters, you have to leave the house, and—well, let's hold it right there. What if you didn't even have to do that? The good people at Mouth have considered this, and decided to consolidate the necessary brunch components (coffee, jam, maple cream, and bloody mary mix) into one compact bag in the interest of helping hungover people everywhere. You still might want to put on some pants, though…
2. TABASCO: Family Reserve Pepper Sauce
$10 (5 oz. bottle)
tabasco.com
When it comes to hot sauce, there seem to be two camps: the super-aficionado camp and the profusely-sweating, "where's-the-water?" camp (see: Larry David). For the former (or the latter, depending on your sense of humor), Tabasco's limited edition Family Reserve Pepper Sauce is the perfect small gift that packs a big punch. Formerly reserved exclusively for the McIlhenny family (gee, thanks, guys), the special batch is aged eight years instead of the normal three, and made with Avery Island salt and hand-selected peppers. Ooh la la!
3. DOIY: Fixie Bicycle Pizza Cutter
$24
shopexit9.com
Yeah, yeah. So maybe hipsters are an easy target? Making fun of them was so 2013. Instead, help them embrace their love of fixies this year with a new addition to the pile of bikes already in their lives. This one, however—a watermelon-colored fixie pizza cutter—will fit neatly in the kitchen drawer.
4. CLARKSON POTTER: The Portlandia Cookbook: Cook Like a Local
$24.95
amazon.com
In case you haven't noticed, Fred Armisen and Carrie Brownstein are pretty good at stuff. They're funny, they're musically talented, and apparently they're damn good at food, too. Cook Like a Local is certainly made to be funny (be prepared for lots of jokes about where you should be getting your ingredients), but it is first and foremost a cookbook, featuring fifty recipes across the board, as well as an overview of Portland food culture. And, hey, there's even a bird on the cover.
5. FALLEN FRUIT FROM RISING WOMEN: Fig Rosemary Jam
$7.99 (6.5 ounce bottle)
goodeggs.com
Providing what is likely the most delectable way to give back to the community, Fallen Fruit from Rising Women is a food justice program for women on parole, specializing in hand-crafted edible products all made to benefit Crossroads, Inc. in Claremont, California. The Fig Rosemary Jam is in season right now, so make sure to grab one (or ten), because it sounds delicious.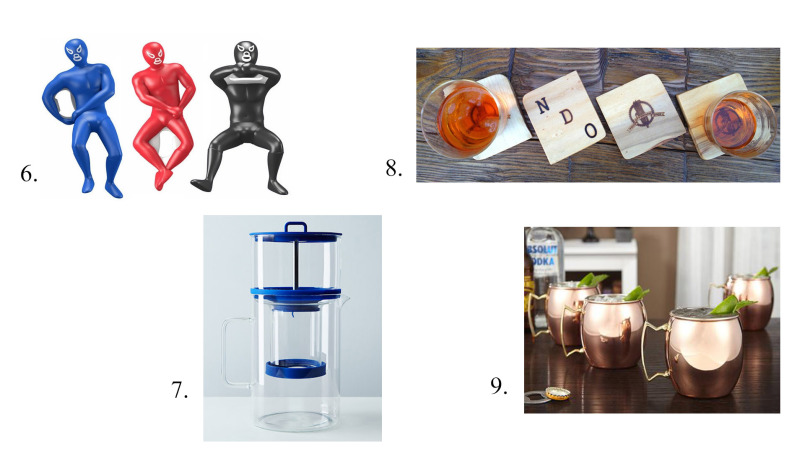 6. KIKKERLAND: Luchador Bottle Opener
$8
theawesomer.com
There's a right way and a wrong way to do everything. And the way you've been opening your bottles with a standard bottle opener (or, god forbid, your teeth)? Wrong. Just all wrong. Thankfully, however, that can all be amended before you can say, "Ay, basura!" with these super-sweet luchador bottle openers. It's just like the way you used to open bottles before, but better.
7. BRUER: Coffee Cold Brewer
$75
food52.com
Ok, maybe this one isn't exactly a traditional winter gift, but what with the climate change and all, it's never too early to start thinking about the hotter months just around the corner. And once they get here, you will be very happy that you're able to make your iced coffee properly with this cold brewer. Or, you know, you could continue throwing your money at Starbucks. Your call.
8. OFFERMAN WOODSHOP: Whiskey Coasters
$36
offermanwoodshop.com
Nick Offerman (a.k.a. Parks and Recreation's Ron Swanson) has a reputation of being the manliest of all men, and the fact that he owns and operates his own woodshop would certainly support that image. But just because he's the proud owner of a mustache that could sink a thousand ships doesn't mean that he can't appreciate the preservation of fine furniture. Case in point: hand-crafted whiskey coasters from the Offerman Woodshop. These bad boys are made from North American cherry tree wood, and are available to be personalized with your initials, even if they happen to be "LOL" or "BRB."
9. Copper Moscow Mule Mugs
$125 (set of four)
gifts.com
Back in the simpler (read: drunker) times of the 1950s, the Moscow Mule was everyone's favorite "refresher," and traditionally served in a big, copper mug. That glorious concoction of vodka, ginger beer, mint, and lime has re-emerged somewhat in recent years, but if you can't find a bar to serve you a proper one, consider grabbing this set of four tarnish-resistant Moscow Mule mugs. Have someone over and you can each have two.