Sharon Van Etten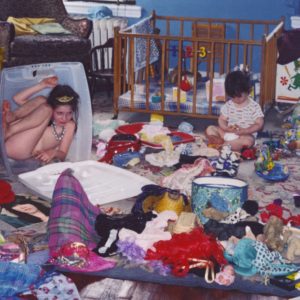 Remind Me Tomorrow
JAGJAGUWAR
8/10
Since the release and near-universal acclaim of Sharon Van Etten's 2014 Are We There, she seems to have grown occupied with just about anything except a proper follow-up. She guest-starred on David Lynch's 2017 revival of Twin Peaks and scored an entire film (Katherine Dieckmann's Strange Weather); she wrote a song for the Tig Notaro documentary Tig and appeared on the Netflix series The OA; she went back to school to study psychology and had a baby; she bonded with Michael Cera.
It must have taken master-level multi-tasking, then, for Are We There's successor to be anything other than an afterthought. On the contrary: Remind Me Tomorrow is an album of uncommon focus, one that finds Van Etten in transition both musically and emotionally, but far from lost or noncommittal. It's a fascinating bridge from the moody indie pop of her previous efforts to something a bit thornier, denser, more rewarding.
While Van Etten describes Remind Me Tomorrow as an album about pursuing her passions, it hardly teems with "follow your dreams" sunniness. There's an unmistakable anxiety permeating just beneath the surface, as if even in happiness she finds doubts lingering, stubbornly nipping at her heels. Nothing underscores this quite so well as recent single "Seventeen," which has an uplifting, empowering chug—but also an unmistakable underlying sadness, resting somewhere between nostalgia and regret. It encapsulates the bliss of being young with a world of possibilities ahead of you, alongside the painful later acknowledgment that things didn't pan out the way you'd envisioned.
Van Etten's lyrics have always tapped into that sort of raw honesty, the kind that hits you in the face during opener "I Told You Everything"—a willingness to confront uncomfortable truths unblinkingly. The bigger surprise is the sonic direction of the record, which bends away from the guitar-centric rock of her earlier albums in favor of heavy synths, deep grooves, and sinister beats. She cited Portishead and Suicide as inspirations here and their influence is apparent, most notably on the hypnotic, smoky dirge of "Jupiter 4" and the driving lead single "Comeback Kid." It's fascinating to hear her chew through a landscape so markedly different from anything she has navigated before. All of it feels of the same canvas, though—an evolution of Van Etten's core aesthetic, but hardly an abandonment.