Curtis Mayfield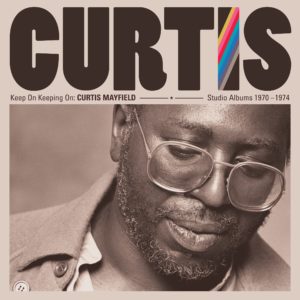 Keep On Keeping On: Curtis Mayfield Studio Albums 1970-1974
RHINO
8/10
Keep On Keeping On, a quadruple vinyl box set of Curtis Mayfield's first four studio albums, coincides with the fifty-year anniversary of Mayfield launching his solo career. Attempts to unpack the legacy and influence of one of Chicago's favorite sons could veer into a novel-length investigation—but an overview of what made him such an essential, necessary voice is on Technicolor display with this set. Mixing soul, pop, gospel, jazz, and psychedelia, his music was vivid and exploratory in the studio and deeply personal and political when it came through the speakers. His breathy voice could pierce the heart or paint pictures of dark times with equal clarity. The same can be said for the tone of his electric guitar—the way it rides on top of the groove instead of launching into anything nearing a ripping solo. As a soul and pop innovator in the '70s, Mayfield belongs in the same realm as Stevie and Marvin.
When Curtis was released in 1970, Mayfield was already a known figure thanks to his productions on his own Curtom label and his involvement in the soul group The Impressions,  for whom he wrote the seminal "People Get Ready." You're not going to find a more blazingly wild intro than the one on "(Don't Worry) If There's a Hell Below, We're All Going To Go," the song that kickstarted Mayfield as wah-wah king, soul poet-prophet, and songwriter extraordinaire. The band he put together fires through ecstatic horn-driven gospel on the original nine-minute "Move On Up," and dives sweetly with strings into the stirringly deep "We the People Who Are Darker Than Blue," speaking bluntly about drugs and race.
Roots (1971) is nearly as strong, with "Get Down," "Keep On Keeping On," and "Now You're Gone" showing off Mayfield's mixture of extended grooves and hard-hitting funk with a sweet melancholy and hopefulness mixed in with the realism. Superfly (1972) is an astonishingly good album and a mainstream hit, but it's technically a soundtrack and isn't featured here (and frankly, if you don't already own it, your library is lacking). The follow-up could never deliver on that album's success, but 1973's Back to the World is confident and positive (often overly so) where there was once stark portraiture. "Future Shock" feels like too direct a response to "Super Fly" in groove and melody, and yet, "Right On for the Darkness" is one of Mayfield's finest—an insanely funky, melancholy inner-city blues with some of his best lyrics; and wow, that bass line. The last in this set, 1974's Sweet Exorcist, is a mellower masterpiece, the blueprint for D'Angelo's slinky, thoughtful deep funk and the home of florid grooves like "Kung Fu," the title track, and "Make Me Believe In You."
Mayfield would spin out a few more epic and incredible songs during the last half of the '70s, but the bulk of his influence and legacy is here, and to listen to it with fresh ears is to know and understand how his music (to paraphrase) keeps on keepin' on.