There was no jet lag for Courtney Barnett as she kicked off her Japan tour in Tokyo's Shibuya district this past Friday, just blocks from the famed street crossing at the Shibuya O-East venue.
After wrapping the South American leg of her Tell Me How You Really Feel tour, in support of her second studio album released last year, it was straight to the Land of the Rising Sun for the Aussie rocker.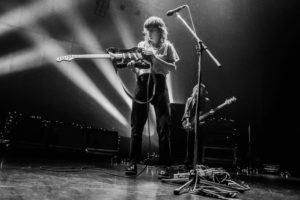 In addition to songs from her first two albums, the high-energy set also included her collaboration with Kurt Vile, 2017's Lotta Sea Lice. Barnett noted during the encore that she spotted some Vile shirts in the balcony, as she played a solo version of their joint tune "Let It Go."

While the audience observed an air of traditional Japanese politeness, listening quietly and attentively, there were moments during which they couldn't help but collectively let out rollercoaster-induced screams. As Courtney shredded on her guitar from her knees, fans in the front row went wild.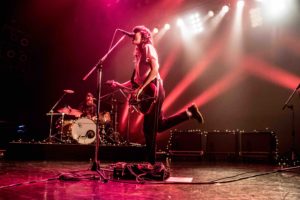 The night ended with a clean slate, when she presented the feverish closer "History Eraser" from 2015's The Double EP: A Sea of Split Peas, which features a Great Wave Off Kanagawa–inspired cover art.  

Barnett's Japanese tour sees her playing Osaka tonight, before returning in July for Tokyo's Fuji Rock Fest alongside The Cure, Thom Yorke, and Janelle Monáe, amongst many others.
Check out more pix in the gallery below.