Stumped on what to buy someone on your gift list? Here at FLOOD, we polled the staff and put together our own picks for what we'd like for holidays. Humble? Hm, not exactly, but hopefully here are some helpful hints for the music lover friend who has everything.
---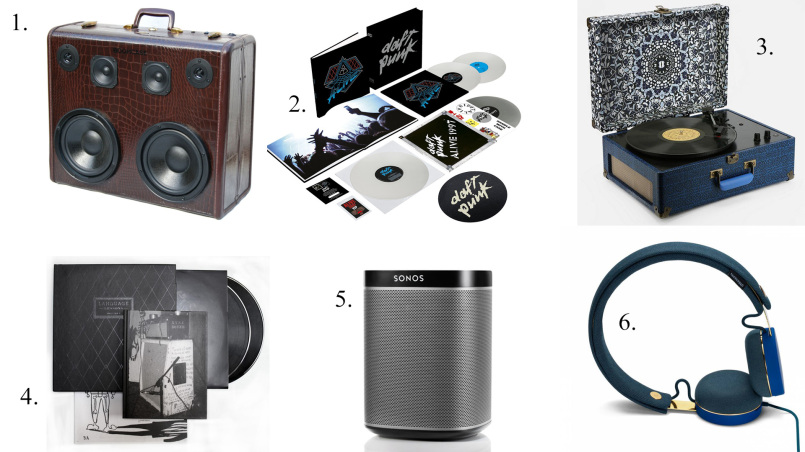 1. THE BOOMCASE: The Boomcase
$745, smooth gator
theboomcase.com
Suitcases + boombox = boomcase. This inventive California company has lots of speaker options on their site (C-3P0 boomcase? Check. BoomSuit? Check.), and they specialize in recycling vintage item and retrofitting them for new musical lives. With an aux-out cable, you can plug just about any device and take your tunes wherever you wanna go—in style.
2. WARNER BROTHERS: Alive 1997 + Alive 2007 Daft Punk vinyl box set
$120
amazon.com
The first time either of Daft Punk's defining live albums have been released on vinyl, you won't wanna sleep on this set. We're still waiting for the robots to go on tour, so the Grammy-winning Alive 2007 recording is still the best way to relive the pyramid in all its glory. △ Of course, the double-vinyl box set comes with plenty of goodies, including a slip mat, a fifty-two-page book of tour photos, and more. What? No Daft Punk ornaments? 🙁
3. URBAN OUTFITTERS: Crosley x UO record player
$160, various prints available
urbanoutfitters.com
An affordable and must-have for vinyl aficionados on the go, this collab edition between Urban Outfitters and Crosley comes in lots of great patterns but, best of all, closes and secures like a suitcase for easy portability from place to place, so you never have to be without you vinyl (so long as you have an outlet).
4. THIRD MAN RECORDS: Language Lessons: Volume 1
$50
thirdmanstore.com
Third Man's first "book," Language Lessons is a bit all-inclusive, containing a book of poetry and prose, two vinyl LPS of jazz, psych-punk, poetry, blues, and pop, and frameable poetry for your walls. With contributions from Pulitzer Prize nominees, National Book Award finalists, and Richard Hell, "lessons" is fitting. We're ready to learn. 
5. SONOS: Play1
$199
sonos.com
You shouldn't be any stranger to Sonos, but if you are, warning: their technology, design, and quality can be addicting. Not to mention each speaker can sync wirelessly to others so you can keep collecting speakers and move from room to room with your own personal life soundtrack—we're talking about the possibility full-Sonos takeover of your house. Their entry-level model the Play1 is a great place to start, but make sure to check out their site for surround-sound possibilities of your home entertainment system and beyond.
6. URBANEARS: UrbanEars x Marc Jacobs headphones
$60, ocean
urbanears.com
When we first saw these in November, we were already ready to ask for them for the holidays. UrbanEars has perfect casual headphones for the everyday consumer, and while they already have tons of great colors and style to choose from, their collaboration with Marc Jacobs sent us into audio swoon mode. We recommend buying a pair for a friend and a pair for yourself.