King Gizzard & the Lizard Wizard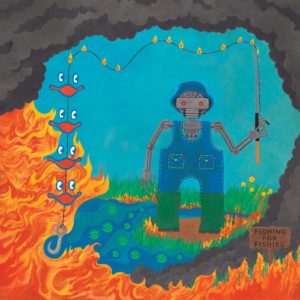 Fishing for Fishies
ATO
7/10
They say that if you want your band to experience a long and fruitful life, align yourselves with the jam band scene—that crew will follow you to the ends of the earth, and then record you as you fall off. King Gizzard & the Lizard Wizard play hundreds of gigs, schedule dozens of releases, and have gained a following that buys out gigs as soon as they're announced. For the casual fan, it might seem like this band is recording music at an unheard-of rate. So where does Fishing For Fishies fit in among the fourteen King Gizzard albums of the last seven years?
It depends on what you appreciate most about them. Of these new offerings, "The Bird Song" is one of their prettiest—a kind of '70s West Coast uptempo jam with weird changes and crystal clear production. If you're a fan of their fuzzy, unhinged garage style, you'll find hints of it tucked into "Real's Not Real" in between breezy pop passages. The title track is also a bit of an oddity, a bright tune that feels like somebody set Unknown Mortal Orchestra loose in the harmonica shop.
The rest of the record is kind of fascinating in its obsession with the "boogie"—both as a verb and as a musical genre. No less than three songs get that word in the title, and the band seem to wallow in the hypnotic streamlined blues riffs that made the best songs of ZZ Top, T. Rex, and Canned Heat sound so amazing. It's hard to argue with their rationale when the band launch into the joyous "Plastic Boogie" or "Boogieman Sam," the latter of which is a ripper taking Magic Sam's "Lookin' Good" riff and turning it into some kind of cosmic party music.
Notably, the songs here each integrate synthetic elements up until the very final track, "Cyboogie," which is the culmination of everything they've been doing on this album—now practically a complete Morodor-meets-Kraftwerk-meets-glam electronic workout with five of the seven members on synth. It's ridiculous but great, which is sort of the band nutshelled; imagine the organic stomp of the blues but lathered up in a '70s space opera gown and sprayed by a fine mist of cheap beer.