Vampire Weekend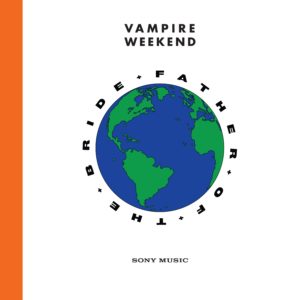 Father of the Bride
COLUMBIA
7/10
For the New York–based band's first album in six years, singer-songwriter and Lemonade-era Beyoncé collaborator Ezra Koenig has made a mess of a double album, far beyond its start-point as a nerd pop Graceland cover act.
With a spread such as this (jam sounds, outlaw country, samba, cinematic atmospheres) and songs written with contagion as a form of virus, Father of the Bride is Vampire Weekend's White Album—all its baroque catchiness and experimentation in one not-so-neat double LP package, as produced by its main-man Koenig and one-time collaborator Ariel Rechtshaid. Now that Vampire instrumentalist and afro-pop enthusiast Rostam Batmanglij has split from the fold (circa 2016), Koenig is left to his own devices, and what comes out seems to pick up where the heavily processed and spooky Modern Vampires of the City left off in 2013. Only here, and now, the not-so-haunted proceedings are more theatrical and orchestrated—and with just a smidgen less quirk and busywork—than they were in the past.
Sonically, that means Koenig & Co. shoot for the hoops of Shakers-like folk on "Stranger," bachelor pad lounge lizard-ness with "My Mistake," and Anglo hippie soul on "This Life," with additional piano-based anthems such as "Jerusalem, New York, Berlin," and bossa nova luster on "Flower Moon." That all of these temperatures and tones fit together handsomely on Father is a marvel of Koenig curation, all tied up with a bow by bird chirps and additional effects.
Lyrically, too, Koenig acts and writes in a somewhat more bluntly intentional—even literal—style, with less reliance on cultural catchphrases. He's not exactly Kris Kristofferson, but Koenig's more direct approach to writing lyrics (and therefore, his singing) finds VW rhapsodizing about man's return to the garden (the Walt Whitman-meets-Joni Mitchell "Sunflower") and cosmic conscious unclogging ("Big Blue") with a weird sort of clarity. You don't expect such direct address to existential matters—so, at first listen, the songs hit and roll off you in an odd, hurt fashion. By second and third listen, however, you'll get that Koenig has stopped being broad—stopped not making sense—and has instead morphed into Pointillism.
The best examples of such conversational Impressionism comes with the dialogue-rich likes of "Hold You Now," "Married in a Gold Rush," and "We Belong Together," all duets between Koenig and HAIM's Danielle Haim. In these songs, the two sound like two (not one—that's crucial, I sense) people in mid-sentence, in mid-thought, intimate and vocal. For those who recall and love films such as My Dinner with Andre, Coffee and Cigarettes, or even the quick-witted comic banter of The Front Page, these songs are for you. In a perfect world, one can only hope that Vampire Weekend and HAIM tour together just so they can make this trio of tunes their live intermission soundtrack.
By no means a perfect album (it's long; it's often too self-content; Koenig plays too many Trey Anastasio solos, starting with "Harmony Hall"), Father of the Bride finds Vampire Weekend pulsing through another fine, finessed phase. This time, however, they're not so neat about it. They're cheerful enough to make—and leave—a mess.