"A woman's time / A woman's work / A woman's time to embrace / She must put herself first."
This refrain played throughout FKA twigs' stunning new "Magdalene" show, and in various guises. As a mood-setting intro to the performance, it could be heard a cappella.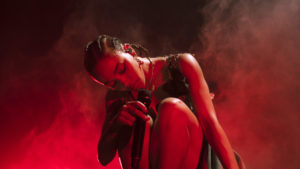 Mixing fan favorites ("Lights On," Two Weeks," "Water Me") with new material, the show was a cathartic and visceral display, simultaneously breathtaking and heartbreaking.
RELATED: FKA Twigs Returns with Stunning "Cellophane" Video
A lot could be read into the emotional tone, with emphasis on displays of strength in the face of complete devastation. As the show progressed, that strength blossomed into a celebration of endurance and survival, from the physical expression of dance and movement to a disarming, naked intimacy.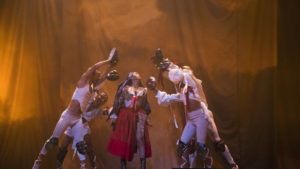 FKA twigs played on the eclectic crowd's rapt attention, at one point slowly creeping into the audience before rushing up to a man in the front row, getting on her knees and staring directly into his eyes for a good two minutes without moving.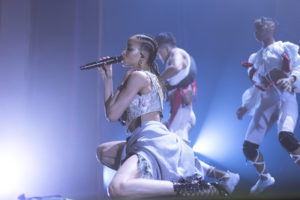 From elaborate costuming to aggressive, precise choreography, the stage was alight with an energy that didn't wane for the entirety of the nearly two-hour show.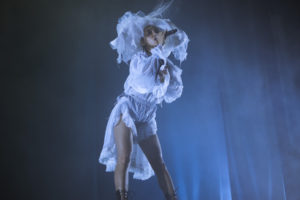 Sonically, twigs' new music proves a definite progression from her past work: the beats are bigger and heavier than ever, but with an even more streamlined and minimal song structure. The tunes ranged from stark ballads to playful dance tracks. Magdalene the album looks to be worth the wait—an emotional rescue of the thoroughly modern kind.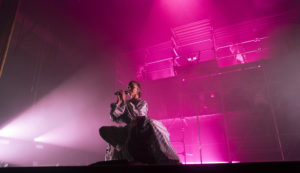 During a series of set pieces wherein twigs displayed her newfound pole dancing skills as showcased in the "Cellophane" music video, the crowd went wild.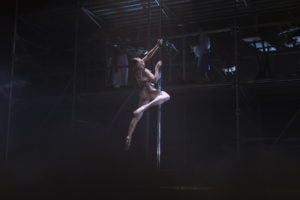 FKA twigs ended things by bringing the entire cast and crew responsible for the show onstage, exuding pride at the black, queer, and POC crew assembled to make "Magdalene" a reality. It's the must-see show of 2019, next set to descend on New York City this weekend: May 11-12, at Park Avenue Armory.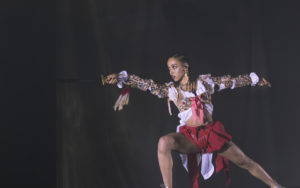 PRODUCTION CREDITS:
Directed by Theo Adams and FKA twigs
BAND
CY AN
LJ Howe
Lucinda Chua
DANCERS
Frankie Freeman
Andrew Perez
LaTonya Swann
Vasco 'VJ' Vea
CHOREOGRAPHY
Tovaris Wilson
Theo TJ Lowe
Tap: Dominique Kelley
Wushu: Adam Rae Ursell
Pole: Kelly Yvonne
COSTUME
Costume Designer: Ed Marler
Wardrobe Mistress: Matthew Josephs
PRODUCTION
Set & Lighting Design: Tobias Rylander
Production Manager: Joel Eriksson
Associate Director: Jordan Hunt
Musical Director: CY AN
Additional Score: Koreless
Movement Director: Theo TJ Lowe
Stage Manager: Drew Dawes
Front of House Sound: Johannes Berglund
Monitor: James Corbin
Lighting Director: Stu Dingley
Vocal Coach: Nadine Marshall