Jessica Koslow is quick to credit the rise of her Los Angeles slow food empire to her past experience as a competitive ice skater. The James Beard Foundation Award–nominated chef and brainchild behind the internationally acclaimed breakfast and lunch restaurant Sqirl has a surprising history as a champion in the field of competitive figure skating known as "figures," the meticulous, pattern-creating sport that was officially removed from international competitions almost two decades ago. In this competition, skaters made patterns on the ice, and were judged according to how accurate those patterns were.
For those of us who grew up with figures as a compulsory part of competitive skating, it still feels glaring that what was once a fundamental part of being a serious skater is now just a memory.
"With gymnastics, there's the artistry gymnastics that aren't the crazy jumping [competitions] and obviously it's a totally different body type that it's made for, and there's a value to that as well," Koslow explains. "There's swimming that is jumping, there's swimming that is swimming across the pool, and then there's the artistic version of swimming. And with figure skating, it's just become one type of figure skating or nothing for singles skaters.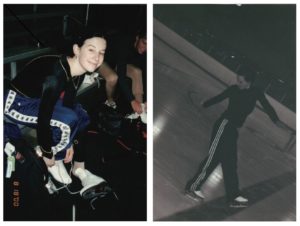 "The real reason I believe figures was pushed to the wayside is the economics of it all," she ventures. "You can only have twelve skaters on a rink at a time, and the ice needs to be blue, but if you have hockey skaters the ice needs to be bright white. So it created a conundrum where the economics of having twelve people on a rink for an hour doesn't really work. The figures times are four  and five a.m., maybe, and if you are doing a hockey program it's really hard for you to do that if you have blue ice. Which is kind of what you need for figures—an ice rink that is darker in color."
Figures ceased to be a part of the U.S. Figure Skating Championships after 1999; Koslow took home the gold medal in the Junior division (the second-highest level of competition) in Salt Lake City that same year. By then, this type of skating was a tough sell for rink owners and for event organizers alike. Performed sans sequins or other freestyle flair, figures could be less than enthralling for ticket buyers of major competitions, as well.
"All these major chefs are doing dinner. That's all they're willing to do. The fact that I am a breakfast and lunch cook, basically getting any respect, is super interesting."
"So it made me think that there was an economic call on top of the fact that, you know, where's the fan base for figures versus filling seats for freestyle?" she continues. "People want to see sparkly outfits and they want to watch people fall and succeed. They don't really care about watching someone go in circles. I understand that there became this thing where it wasn't viable from that standpoint."
All the years spent slowly perfecting her figures during practice sessions, tests, and competitions set Koslow up to be a perfectionist in the kitchen—particularly with the jam-making that brought Sqirl from a fledgling food vendor to a perpetually packed restaurant sensation.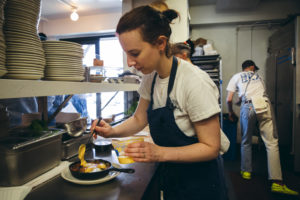 "I think jam-making has a similar sensibility," she says. "It's slow, it's secretly hard to do. It's a slow process in how to do the perfect texture and consistency and all those things."
Koslow wasn't really into cooking during her competitive years, but found it became her passion once she stopped skating. And like her interest in figures, she gravitated toward a part of the food industry that wasn't as celebrated as others.
"I like those things that are less loved, you know?" Koslow says. "I think that's also genuinely why breakfast and lunch seemed interesting to me. All these major chefs are doing dinner. That's all they're willing to do. 'I have to do dinner service, I'm a fine dining dinner chef.' No one gets respect doing breakfast and lunch. The fact that I am a breakfast and lunch cook, basically getting any respect, is super interesting."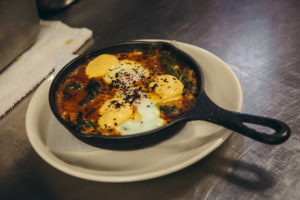 Koslow will get a chance to put her mark on dinner service in July when she opens Onda, a collaboration with Mexico City star chef Gabriela Cámara in the new Proper Hotel in Santa Monica. Though she'll be at the new restaurant a lot in the beginning, she plans to continue spending most of her time at Sqirl; her presence will be felt more than seen at Onda.
Koslow sees many parallels between her athletic years and what she's doing now at both Sqirl and Onda—the champion mindset is clearly lifelong.
"It was one of those things that seemed more honest, it seemed like the work I wanted to do," says Koslow of her focus on breakfast and lunch. "Now it's interesting to see how Sqirl has evolved. Because when major chefs would tell me, 'Oh girl, good luck doing breakfast and lunch. I'll never do it because the margins are too slim and there's no alcohol sales, and it's just a grind,' I would think 'Well, that's more push for me to do what I want to do and do it well, because no one's in the lane right now.' Now there are a lot of people in the lane. I just think about how [skating] prepared me to be a chef. It prepared me to know that someone is always on my tail ready to swoop in!" FL
This article appears in FLOOD's Passion Issue, presented by Toyota Corolla. Click to read or download the full issue below.