Here's a fun fact: Jack White worked as an upholsterer in Detroit before the White Stripes came to fruition. Here's another one: White and his buddy Brian Muldoon formed a band aptly called The Upholsterers, and made some records when they weren't busy making furniture. Oh! And here's another good tidbit: The duo hid about one hundred vinyl copies of their band's singles in pieces of furniture that they worked on.
The saga of the hidden furniture records had certainly seemed to have been brushed under the couch, with their final resting places a mystery to even White himself until now.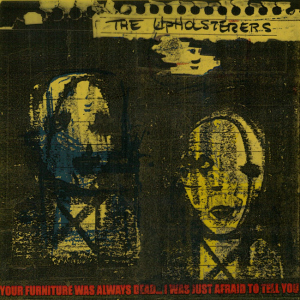 Third Man Records has revealed that two separate individuals have claimed to have discovered copies of The Upholsterers' single "Your Furniture Was Always Dead…I Was Just Afraid To Tell You," buried within their sofas. No word on what these lucky souls were doing ripping open their furniture, but the label seems to be enjoying the possibility that the streets of Detroit may soon be covered in ravaged couches. TMR even shared the original album art, courtesy of Gordon Newton, from The Upholsterers' second single on their website.
(via Spin)