Presenting FLOOD 10: the Sustainability Issue. You can click here to read or download the Jeff Bridges/Swoon version, and here to read or download the Animal Collective/Alex Honnold version.
Copies of FLOOD 10 are available for purchase here, and include both versions of the magazine.
Guess what? Things aren't looking good. For the planet, that is—and for all of us who live on it. According to a recently released assessment from the United Nations, human beings are transforming the earth's landscapes so drastically that one million plant and animal species are now at risk of extinction. The UN report explains that the abundance of native plant and animal life has fallen by at least 20 percent over the last hundred years, and with the expanse of our human population and destructive activities like logging, poaching, and fishing, the natural world is being changed at unprecedented rates. Global warming, too, has assisted in rapid wildlife decline; many animals, insects, and plants are no longer able to survive in their much-altered or shrunken local climates.
FLOOD is an arts and culture publication, yes—but we're a part of this world too, and we wanted to contribute in whatever small way we could. So with our tenth print issue, we sought out stories that delved into sustainable living, climate change, renewable energy, water conservation, and ocean exploration. We've compiled a selection of artists and activists who are talented and productive in equal measure.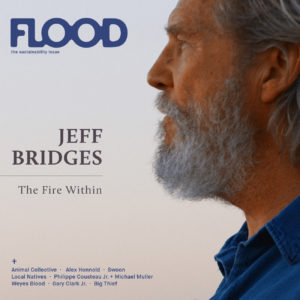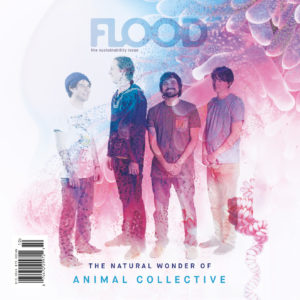 One double-sided version of FLOOD 10 features iconic and grizzled actor Jeff Bridges (a.k.a. The Dude) on its cover, who experienced a life-altering mudslide at his Cali home and produced/narrated a documentary called Living in the Future's Past, directed by Susan Kucera, about our earth's resource depletion. On the flip cover side is Brooklyn-based visual artist Swoon, whose work (from massive rafts made of recycled junk to street murals) promotes the housing of disaster victims, humanizing refugees, and radical self-reliance.
[Click here to read our cover story on Jeff Bridges. Here to read our story on Animal Collective.]
The second version of FLOOD 10 has psych-folk group Animal Collective on one cover, who teamed up with avant-garde videographers Coral Morphologic for an audiovisual collaboration called Tangerine Reef, on which they explore their passion for the ocean and environmental issues. And on the flip side is Alex Honnold, legendary rock climber and star of this year's Oscar-winning documentary Free Solo, who started a foundation dedicated to bringing impoverished communities solar energy.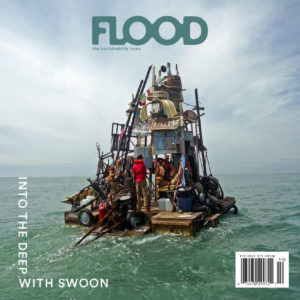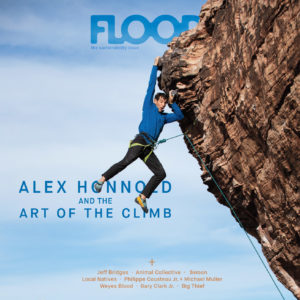 Elsewhere in the issue, we've got some of our favorite musicians—Weyes Blood, Big Thief, She Keeps Bees, Local Natives, and Gary Clark Jr., to be specific—speaking about stuff like outlawing the use of plastic water bottles on tour, picking up garbage off beaches, living in their cars to maintain a smaller carbon footprint, writing songs about Trump leaving the Paris Agreement, and—of course—their art.
[Click here to read our story on Swoon. Here to read our story on Alex Honnold.]
Additionally, we spoke to old pals Philippe Cousteau Jr. and Michael Muller—the former Jacques Cousteau's grandson, the latter a renowned shark photographer—about their work with ocean protection and education; Jon Rose, a former pro surfer and founder of Waves 4 Water, a clean water initiative; and the married couple who left LA to start their own sustainable farm, the subjects of documentary The Biggest Little Farm.
Finally, we've got Breaking stories on fascinating up-and-comers like Jennifer Kent (director of The Babadook and The Nightingale), actor William Jackson Harper (of The Good Place and Midsommar), rapper Kari Faux, modern discoist Cola Boyy, and power pop heroes Charly Bliss.
You can also pick up FLOOD 10 on newsstands at Barnes & Noble, at Burton, Original Penguin, and Zumiez stores, or in your room at an Ace Hotel. This issue was printed on recycled paper with vegetable-based inks by Prolific, an FSC (Forest Stewardship Council) certified printing company in Canada.