This article appears in FLOOD 10. You can purchase the magazine here.
---
"When I first heard about this article, I wanted to go to the sea lion sanctuary in San Diego," says the Los Angeles–based musician Natalie Mering, better known as Weyes Blood. We had planned to do something interactive related to sustainability—climate change is central to Weyes Blood's newest album, Titanic Rising—but since we met in New York rather than San Diego, our plans shifted to a stroll along Greenpoint's Newtown Creek Nature Walk, where we would have learned about the massive 1970s Greenpoint oil spill and its cleanup efforts, continuing to this day. Instead, torrential last-minute rain relocated us to an eighth-floor room at Williamsburg's Wythe Hotel.
The view from the room is oddly relevant. Graffiti-covered industrial landscapes flank exactly one patch of short, splotchy grass, while a building that is clearly the product of gentrification stands out. The East River and Manhattan skyline are in plain view against a white-grey, foggy sky. Though all appears tranquil, it is apparent that mankind's creations are steadily contributing to earth's destruction.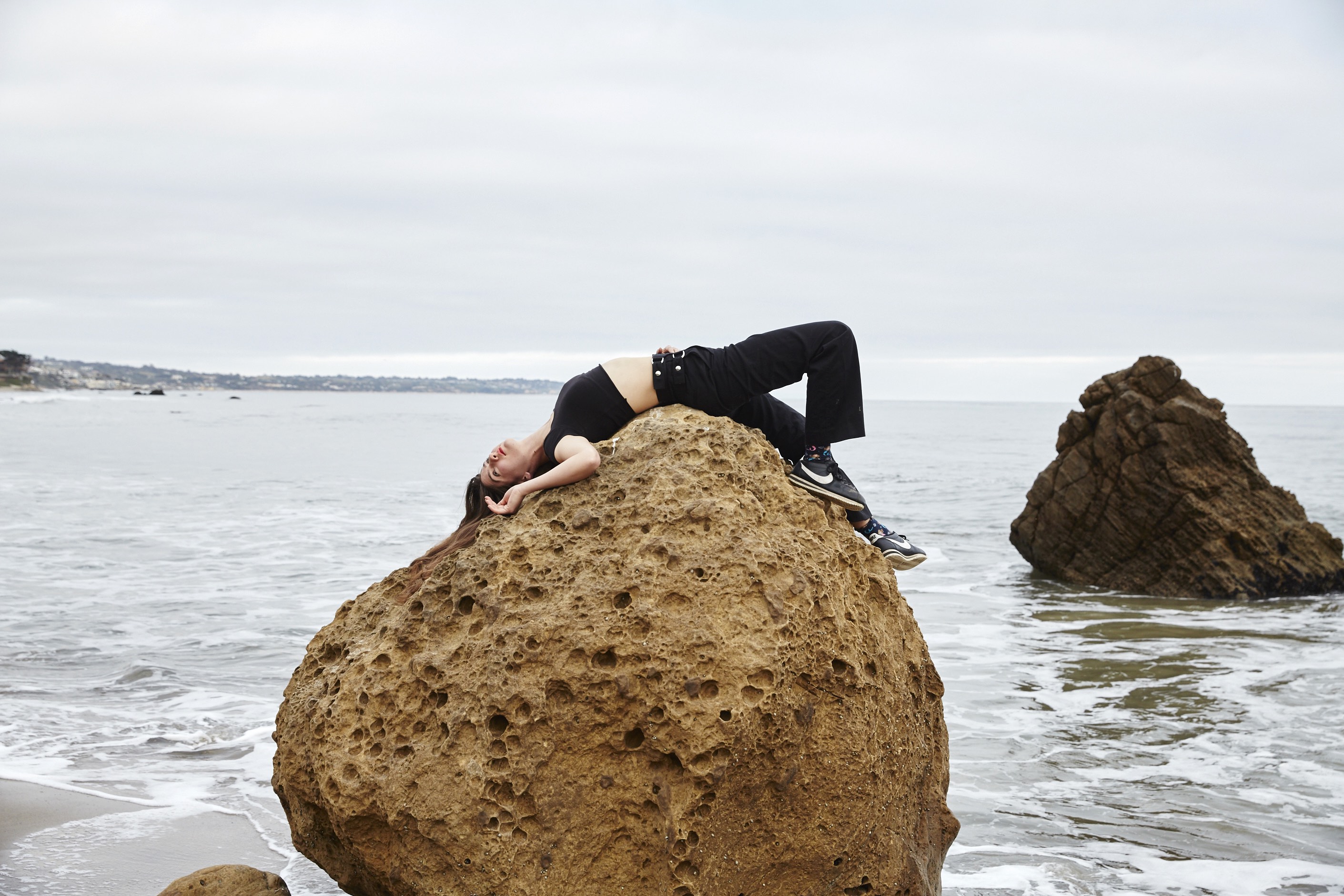 Across Titanic Rising, Mering ruminates on climate change from a measured standpoint. Through faintly psychedelic whirlwinds of reverberant piano, arid guitars, lightly humming synths, and choral singing, she posits that humanity can power through its ongoing crisis via hope, myths, spirituality, and by treating climate change as an extension of human nature rather than as an insurmountable antagonist.
Titanic Rising's climate change commentary is at its least subtle on "Wild Time," which swells from a gently sweeping folk tune into a string-flanked hymn over a generous six minutes. Its chorus neatly summarizes the song's statements about misinformation and the immense energy toll of overpopulation: "Don't cry," sings Mering. "It's a wild time to be alive."
"That's about looking at the sheer masses," Mering says, "not as this huge chaotic evil force terrifyingly bigger than we can imagine, but instead looking at it like, 'What a beautiful hive mind, such a crazy machine.'" To her, it seems we'll only conquer climate change by staring it down instead of flinching at its vastness: "I'm talking about being able to connect all this destructive mess with nature and not seeing it as this harsh, cold disconnection, but as an expression of our natures."
Mering's disarmingly hopeful take is built on her longstanding, steadfast fascination with spirituality and mythology. She has a borderline encyclopedic knowledge of how belief systems have aided humanity during global crises, and on Titanic Rising, she often sings of our collective need to place faith in something.
"It's ironic that the Titanic would crash into an iceberg and sink, and now the icebergs are melting and sinking the third class of the world. They're going to suffer at the expense of our wealth."
Shared myths, to Mering, are central to conquering climate change. "I think we need to re-adopt some more primordial, ancient myths to try to cope with the reality of the chaos of existing," she says. "There's a darkness to climate change—the powers that be, capitalism, and overpopulation—but we need to mythologize it a little more to understand it and cope with it." This practice is nothing new: "When we become aware of death, we need to create myths and little rituals to understand the chaotic cycles we are subject to," she analogizes—but these days, "the shared myths around the world are geared more toward individualism and money and things that don't bring you back into the whole."
Global lore comprises Titanic Rising's cornerstone. Its very title recalls one of the most well-known tales of the past hundred years. "The Titanic is a very symbolic tragedy of the hubris of man, thinking we can conquer nature," Mering says. "It's ironic that the Titanic would crash into an iceberg and sink, and now the icebergs are melting and sinking the third class of the world. They're going to suffer at the expense of our wealth."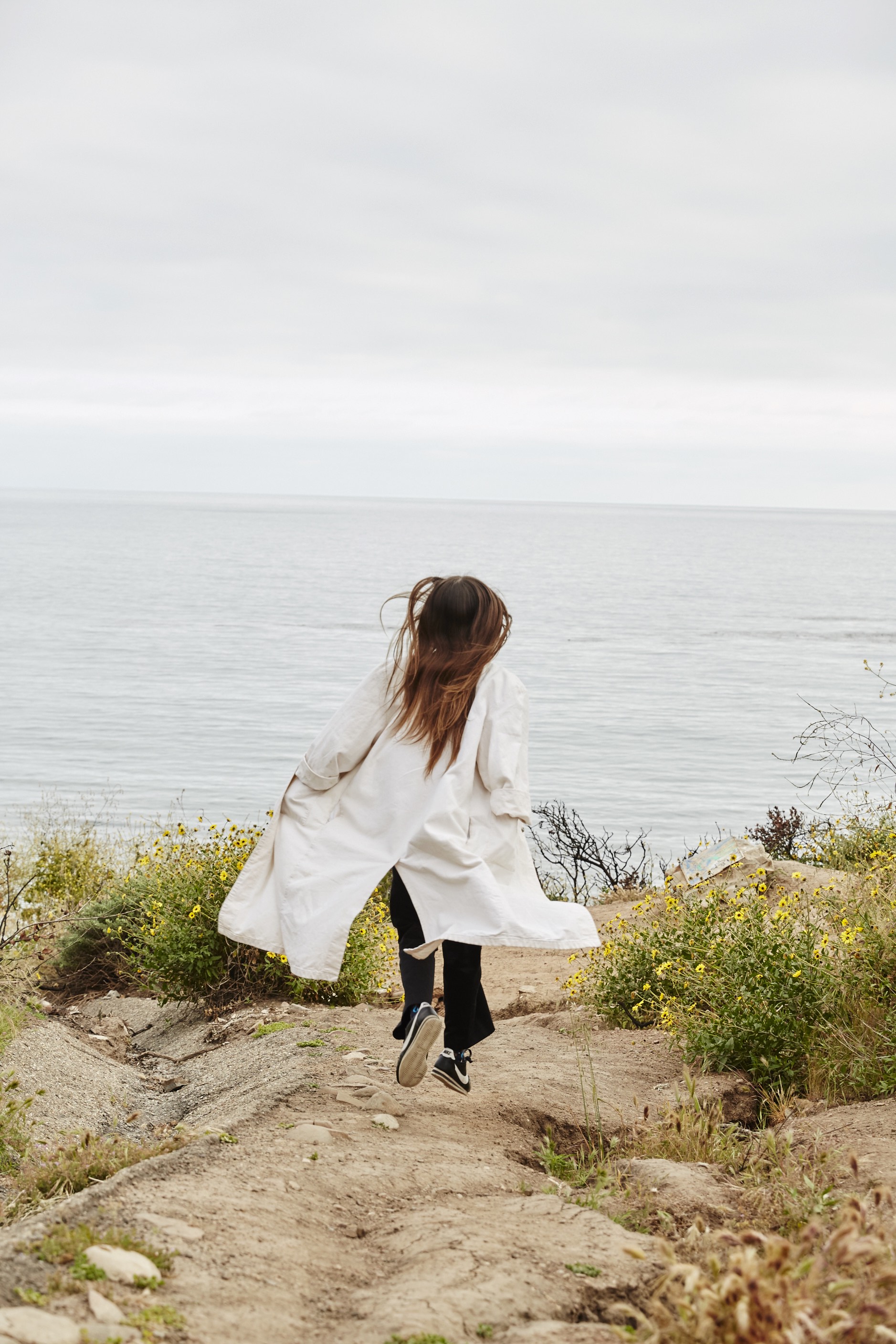 Eventually, the oceans will submerge the world's first class, too, and Titanic Rising's artwork blatantly depicts our forthcoming immersion. An unphased Mering appears in a bedroom with a twin bed, a warped dresser, a tiny desk, and some modest prints—but the room is filled to the ceiling with water. Mering is literally submerged in a bedroom, an "altar" she finds "symbolic of young people creating their sacred spaces." If our personal shrines aren't safe from rising sea levels, the artwork suggests, nothing is.
Mering hopes that her album's imagery and lyrics will contribute to sustainable causes, but she realizes her art is not enough. "People will need to divert from their individualism," she says, not excluding herself. "I've done plastic cleanup at beaches. That might be a habit of people who grew up in the '90s, who associate environmentalism with just cleaning things up," she continues, implicitly acknowledging that such efforts often have minimal impact.
Her hopes for a garbage-free ocean tie into her love of that San Diego sea lion sanctuary, which helps detangle sea lions from fishing line. "I see the ocean as one of those things that's particularly vulnerable," she says, placing the onus for repairing it on the companies that produce massive volumes of plastic packaging. "Dasani and Pepsi and all these big companies have left it to ordinary people to control their waste, but they're the producers of it." In other words, they should be held responsible. Otherwise, the world's population might find itself like Mering on the cover of Titanic Rising, or maybe like those San Diego sea lions: trapped by the byproducts of a careless humanity. FL