Madonna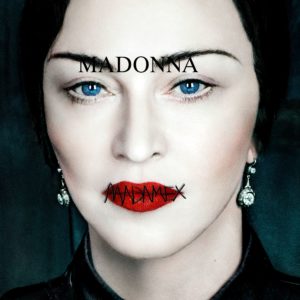 Madame X
INTERSCOPE
5/10
It must be difficult—creatively, at least—to be Madonna. As with U2, every new album is expected to be an event, because the world sees her musical trajectory as almost autobiographical. And everyone is anxiously awaiting another titillating chapter.
Ms. Ciccone, of course, has been doing this for forty years. It's surely daunting, then, to have to be zeitgeisty even when the zeitgeist is busy with Gaga and Cardi B. So we get the provocatively titled Madame X—which seems to be dropping a clue that this one is going to be…something different.
But experimentation is not necessarily a Madonna-happy place. As she has in the past, she struggles with it here.
First off, Madonna has never been a very good lyricist—though no one has ever really seemed to care. X opens with a track called "Medellín," where after a rather grim spoken word intro (huh?), we get the cringey couplet "Sipping my pain / Just like champagne" (ouch), over an undistinguished Latin-tinged quasi-ballad.
Though she's always better when she's just having fun, Madonna constantly yearns to be more poignant. To wit, the video for "Dark Ballet" takes Joan of Arc as a theme, perhaps because the lyrics are about the perils of buying into one's own fame. She stops mid-song to recite a random Lord's Prayer, an instance of gimmicky Catholic reference pulled from her old bag of tricks. There's even an inexplicable "classical" piano interlude. (Why?)
She does play to her strengths on "God Control," with its housey groove, dramatically sensual strings, and charming sing-songy vibe. Although she should know better than to stoop to Auto-Tune, it doesn't really take much away in this instance. Madonna also strikes a visceral chord on "Killers Who Are Partying," in which she pledges solidarity to the marginalized ("I will be poor, if the poor are humiliated") and seems genuinely sincere while doing so.
Overall, the X here could stand for overXtended. Madonna would be wise to remember her own words: "Music can be such a revelation… And you can dance for inspiration." She should follow that advice, going forward.