Sasami Ashworth is in the breakfast area of a Holiday Inn Express somewhere between Vancouver and Boise. These types of locations are very familiar to Ashworth, who has been touring consistently in support of her debut solo album, SASAMI. Prior to this, she was supporting Mitski, Snail Mail, and Japanese Breakfast.
It's only in the last year or so that Ashworth has been able to stay on the road indefinitely. Not very long ago, she had to work her touring schedule around her teaching schedule, fitting one passion around another. 
"There is a crossover point," says Ashworth. "Either you have a job and music is your uncompromised passion, or music is your job and you have to make compromises. I just passed the point where you get to that crossroads and are lucky enough to have an option. And I decided to choose music." 
Music has always been the direction that attracted Ashworth, first as a pianist, then as a French horn player on the conservatory path to a career as a classical musician. She earned a degree in music education before becoming a part of Los Angeles' indie scene with her brother Joo-Joo, guitarist and vocalist for the band Froth. At the same time, she was substitute teaching at elementary schools. Two weeks of teaching allowed Ashworth to break even on tour for a couple of months.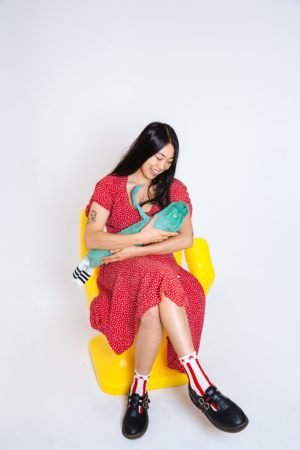 "Entropy is never clearer than in a classroom full of kids," Ashworth says. "Chaos reigns. At the end of a forty-five-minute class, you're on fire. It's like a rock show. In any field where connecting with humans is involved, there are parallels—especially in an era where people's attention spans are so small."
Moving forward in her teaching career, Ashworth started working for the music education company Music Rhapsody. She was teaching a few days a week at schools in addition to her classes at the Music Rhapsody headquarters. She also created videos of actual classroom lessons and trained teachers all around the globe. Working virtually, she conducted workshops and conferenced with teachers via Skype. 
"There was definitely a period where I was still working while on tour," she says. "I would be working on my laptop, creating curriculum, editing, doing online professional development, having video meetings. I was in a music teaching cult, which was amazing. It is the best program and I really loved it, which is why it was so hard for me to leave." While Ashworth doesn't have to lead a double life at the moment, she is one of many musicians who are foregoing owning—or in many cases, even renting—property. Instead, these artists tend to stay with parents, friends, or family, or opt to live in an affordable but random city far from the music hubs. They may have to tour relentlessly, and not necessarily for a profit.
"Entropy is never clearer than in a classroom full of kids. Chaos reigns. At the end of a forty-five-minute class, you're on fire. It's like a rock show."
"I'm on a headline tour right now, which probably will lose money," Ashworth says matter-of-factly. "I'm not selling out every show. I have to find openers that will tour with me for $150 to $250 a night, which makes no financial sense. But I've done it. I did tours with Cherry Glazerr where we didn't make any money, but you have to tour. You have to learn how to do it. You have to get better at your instrument. You have to become a master of your craft. You have to play for people. You have to build a reputation. 
"Musicians put in five to ten years of never having money before they can afford to, for example, buy the eczema cream that's not the generic brand that doesn't work. But musicians get free clothes, so it feels like we're doing fine. It's funny being in the thick of it, because you can see how people on the outside have no idea what's happening and how the infrastructure of the music industry really works." 
Ashworth knows firsthand about getting projections from, say, a pending European tour where the balance sheet shows only negative $5,000. The hope is that this loss will be offset by selling merchandise or a festival appearance or a sync or—gasp—tour support from the record company. 
There's an in-between space Ashworth occupies now, where she doesn't have to have a second job yet she's only sliding by as a musician—even with tour support from Domino Records. She is constantly concerned with questions such as, "Is my album going to be digestible by people?" or, "Is this going to be a song they can play on the radio?" 
Judging by fans' and critics' reactions to SASAMI, she has hit both those marks, albeit unintentionally. Singing close and conversationally about her failed relationships over the last few years, SASAMI is far from a heartbreak record, but it tugs at some of those same strings. "Jealousy" has a starkness in its addressing of that ever-present but unpleasant titular human emotion. Her lo-fi approach adds to the intimacy of her lyrics on songs like "Morning Comes," where melodic rumbles temper her monotone delivery.
"Musicians put in five to ten years of never having money before they can afford to, for example, buy the eczema cream that's not the generic brand that doesn't work."
"When I was making SASAMI, I didn't think about audience reaction at all," says Ashworth. "But now that I'm thinking about my next album—and I know it's on a label because I've already signed a contract and I'm indebted to them, and I'm contractually obligated to make more albums—I definitely want to make an album that will sustain my new livelihood. I'm not going to make some experimental, crazy album. I want to keep playing for people and widen my audience." 
SASAMI is keeping Ashworth on the road, but when she's back home in Los Angeles, she still teaches—albeit on a volunteer basis. She is involved with The Deep End Club, a community club in Echo Park, where she teaches a donation-based, all-ages, Mommy & Me style of music class. All the proceeds go toward raising funds for immigrant services. 
"It's always on the table," Ashworth says of teaching. "I would definitely be okay with going back and I'm super-aware that it could happen. But, as a Korean who is very ambitious, I don't think it ever will—unless I want it to. I'm a workhorse, but I'm also a through-and-through music nerd. This is my goal. On every level, in any field, you have to be a hustler." FL
---
This article appears in FLOOD's Passion Issue #2, powered by Toyota Corolla. Click to read or download the full issue below.