Jeff Donahue is sitting at the end of the bar when I walk in. It's cold in Chicago, but in Sportsman's Club, the Ukrainian Village bar at which Donahue and partner Wade McElroy serve as beverage directors, it's warm. There are deer heads and stuffed fowl along the walls, overseeing dark-wood booths whose tables have checkerboards etched into their surfaces. Parquet Courts are careening down the back end of "Sunbathing Animal" over the PA.
Like that Brooklyn quartet, Donahue and McElroy are cutting a hard image for themselves in a scene whose rapidly exhausting hype threatens to overshadow its considerable qualities. Sportsman's is one of a dozen or so bars in Chicago that "specialize" in cocktails the way that David Chang "specializes" in cooking. But here there are limitations in place. The duo—along with whichever guest bartenders happen to be picking up a shift—create four new cocktails every night using only what they have on the back bar: no tinctures, no mixes, nothing prepared in a kitchen. They've been doing this since they opened in December 2013. If they've ever repeated themselves, Donahue has trouble remembering it.
As I nurse a can of coffee-dark Zombie Monkie porter, Donahue talks about how he and McElroy created the bar's defining trait, the development of the Chicago cocktail scene, and which Scandinavian spirit you should be using instead of gin.
---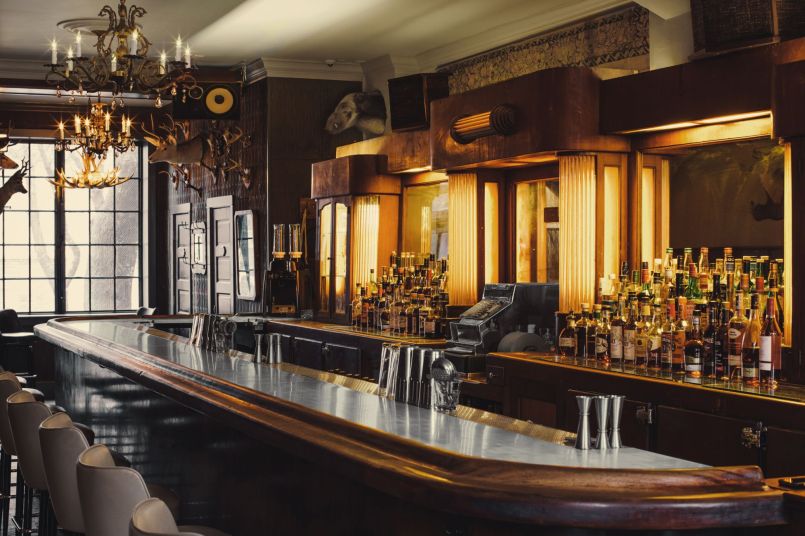 Jeff Donahue: I've worked in bars that have extensive cocktail menus, and that offers so many challenges because you need so many bottles at your disposal to be able to make them all. If I give you a list of thirty cocktails, I need to be able to make all thirty of those pretty quickly. In my experience, a lot of bartenders who have worked in these classically-driven bars have hundreds of cocktails in their heads. So instead of having this giant book for people to pore through, just give them four options that all differ from one another, so you can cover all of your bases.
"Sometimes [the menus are] more conceptual. A couple of Saturdays ago, instead of putting up an actual description, we just put up the colors: brown, clear, pink, amber."
How far in advance do you plan the menus?
That afternoon. We come in at three and start pulling bottles. We all come in with ideas for things. As you get busy throughout the course of a night, people will start asking for some kind of dealer's choice or something, and you might make something off of the menu that gives you an idea. We have three regular bartenders, but we also have a bunch of friends who bartend at other bars and do one or two nights a week here. I think that keeps it a little more dynamic and keeps us from getting tired, because you're always putting your head together with someone new. We'll go for themes sometimes. Sometimes it's more conceptual. A couple of Saturdays ago, instead of putting up an actual description, we just put up the colors: brown, clear, pink, amber. You can really go in a million different directions. Wade and I today were talking about doing a menu where you put four modifying ingredients on the board, then at the bottom put, "Choose from bourbon, rum, or gin."
Have any spirits surprised you with their versatility?
Maybe aquavit, actually.
Really? Wow.
We use a lot of aquavit. I wish there were more aquavits in Chicago to choose from. Tonight we're doing a prescription Sazerac, but instead of using half rye and half cognac, we're doing half rye and half aquavit and building the rest of it like a Sazerac. It's a really interesting thing to plug in the place of gin, too. Both have those really high botanical notes; it's just a little more robust.

Why do you think Chicago has such a strong cocktail scene?
It's the best now that it has been. It took a while for the scene to gestate, and I think a lot of the reason there are so many good places now is… If you take, for example, someplace like [Wicker Park lounge] The Violet Hour and how many Violet Hour alumni have gone on to start their own places, now we're at the point where the people who were under them at the new places are starting to go out and do their own thing.
Did The Violet Hour set the table in that way?
Violet Hour was, in my eyes, the first to bring the New York classic cocktail revival to Chicago via Toby Maloney, who was a partner there and was very instrumental in the training of all the bartenders there when they opened. Mike Ryan, Stephen Cole, Kyle Davidson—these are all people who are still in Chicago running other programs, who are all phenomenally talented and knowledgable, and who have all passed that knowledge on to people below them, and now those people are running places. It spreads. There's a lot more knowledgeable, talented, experienced people in the cocktail industry now. We have a bunch of really great young guys here that we're trying to mentor and help them learn, help them grow, help them develop their own ideas and voices and personalities. FL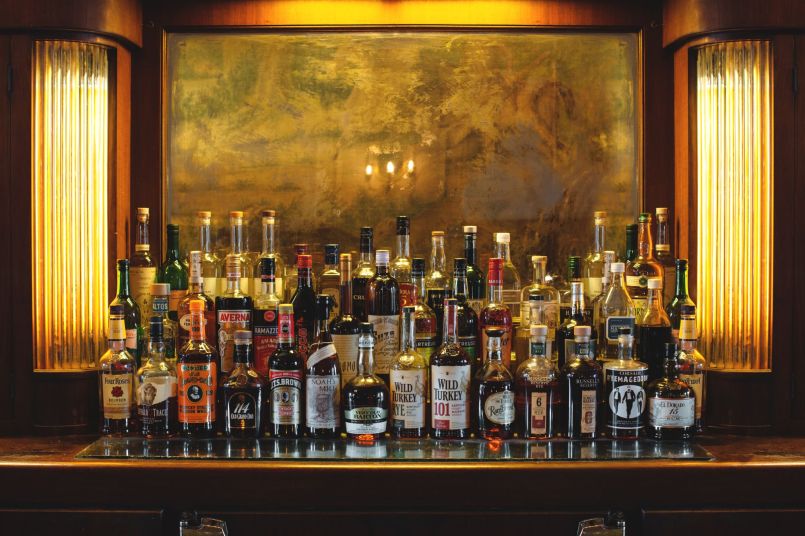 We also asked Donahue to send us over a cocktail recipe for the holidays: something anyone with a BevMo card and a penchant for consuming delicious drinks could make at home. Behold: the Royal Coachman
1 oz. Laird's Bottled in Bond Apple Brandy
1 oz. Rittenhouse Rye
3/4 oz. Zucca Rabarbaro
1/8 oz. St Elizabeth Allspice Dram
2 dashes Angostura Bitters
Stir all ingredients with ice until chilled
Strain into a cocktail glass
Garnish with orange peel oil expressed onto cocktail
---
Sportsman's Club is located at 948 N. Western Avenue in Chicago, open daily 5 p.m.–2 a.m.