We're excited to partner with WORLDZ, a two-day global summit for marketers and innovators held in Los Angeles and designed to help bring together the minds of CEOs, CMOs, and other cultural icons in order to learn professional lessons from the very best. This interview is the first in a series leading up to WORLDZ 2019, hosted from September 10 and 11 in Long Beach, CA.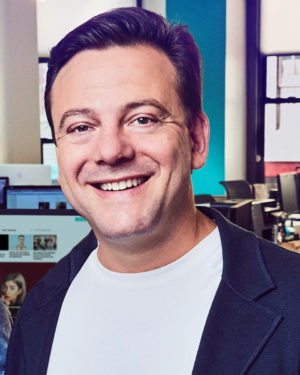 ---
If you're a music fan, you've encountered Bandsintown, even if you didn't know it. In addition to helping its fifty million users find shows to attend and discover new artists that align with their show-going tastes, Bandsintown populates many an artist's website and Facebook page with tour date listings and ticket purchase links. The app allows its 500,000 registered musicians to engage with fans and sell more tickets (and, therefore, make more money). And thanks to a newly launched feature, artists can get fan opinions on where they should tour next, and plan future destinations based on demand.
We spoke to Bandsintown managing partner Fabrice Sergent about why live music is key to artist discovery and what he calls the "renaissance" of the music industry.
"Because we enable fans to manually track artists or connect their accounts to their streaming service accounts, we get a very strong understanding of their preferences."
For people unfamiliar with Bandsintown, can you give us an elevator pitch?
Bandsintown is the leading concert discovery platform in the world, connecting about fifty million users and 500,000 artists. The platform enables fans to go to many more shows through alerts when their favorite artists come to town and through recommendations that Bandsintown provides. The platform also enables artists to publish their tour dates and display them on their own properties, and therefore sell more tickets, because we also provide a free messaging tool they can use to directly email or send push notifications to their fans, which we call "trackers."
What do you think makes Bandsintown special in the realm of live music and tastemaking platforms?
We enable fans to very easily tell us which music they prefer and which artists they listen to, and because we enable fans to manually track artists or connect their accounts to their streaming service accounts, we get a very strong understanding of their preferences. That enabled us to create this platform algorithm that can make recommendations. We did that across fifty million music tastes. The more people that use Bandsintown, the more we can make relevant recs. That's why we became the most trusted source for concert recommendations—because we built it around this very strong technology that makes us quite unique in the marketplace.
What music industry experience did you have before you bought Bandsintown, and what music industry experience have you gathered from running it?
We are media and tech entrepreneurs. My passion is music; my preference is live music. That's a shared passion with my co-founder, Julien Mitelberg. And that's what drew us to create several music-related apps and games. 
We didn't have a music industry past, but we worked a lot with artists and labels before launching Bandsintown. Since we grew this company, we dug much deeper into the live music side of the music business. We did so not only to pursue our passion, which is important, but also with the belief that live music is part of the renaissance of the music industry as a whole. I think this dates back to 2011 or 2012. At the time, the recorded music industry was in really bad shape, and so we placed all our bets on the live music side of things, just because we thought that live music was critical to the success of music in general.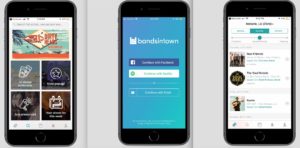 How has the ever-growing shift toward streaming services, widespread social media usage, and smartphone usage affected what Bandsintown does?
Because we try to foster discovery, the fact that we natively integrated Apple Music and Spotify helped a lot. It's quite natural that, when you get a notification about an artist that we recommend that you may not know very well, the first thing you want to do is to listen to their music. I think the seamless integration we successfully implemented in the last twenty months helps us be more relevant and also helps artists be better discovered. 
On the other hand, Bandsintown became, over the years, one of the leading marketing solutions for streaming music services. We reach fans that care on a global level and deliver streaming music services to new subscribers. The other side of our relationship with streaming music services is that we help them reach out to passionate music fans.
What are some of the most interesting partnerships you've organized for Bandsintown?
We just announced an integration with Billboard, which was a natural fit. Billboard wanted to enhance the experience of the fans using its properties by adding tour dates and live music information that we provide. On our end, we believe it's our mission to facilitate discovery, and Billboard is catering to passionate music fans as well. If you now click on any artist's name within the Billboard website, you'll end up on an artist's page, which displays the artist's tour dates.
What do you find most challenging about your work, and how do you address that challenge?
"About 40 percent of tickets go unsold in the U.S. That's a two billion dollar missed opportunity for the artists. Discovery is key to this business."
Right now, music is at a time of renaissance. What I mean is that now, there are more possibilities than ever for artists to succeed. It is a fast-changing world. It's driven by live music, but also music streaming. The challenge is to provide relevant services to the artist community and to be on top of the data for the fans. 
On the data side, we are expanding internationally very rapidly, so we translated the app in seven languages. We now are relevant in many cultures—including Japan, for example. The challenge is to bring Bandsintown to many more territories, to the industry, to the artists, to help bands succeed and power their live music tours even more efficiently. 
Bandsintown aims to fill the gap between tour date announcements and fans actually finding out about those tour dates. How did you realize that this gap exists and that it needed to be addressed? 
About 40 percent of tickets go unsold in the U.S. That's a two billion dollar missed opportunity for the artists. Discovery is key to this business. 
There's a gap in information around tour dates, but there's also a gap in discovery. There are more artists today, and that's good news, but it's also harder for fans to find out which artists they should go see—especially since, when you buy a ticket, it costs more money than just streaming a song. 
Bandsintown is the most trusted voice in concert recommendation, and we're very proud of that. We send about 500,000 people to ticketing sites every single day, and 50 percent of our fans go to shows by artists they have never heard of after a Bandsintown recommendation. 
What we are doing enables fans to be alerted to discovery aspects. That's the key contribution that we bring to the table. FL