Nick Cave & the Bad Seeds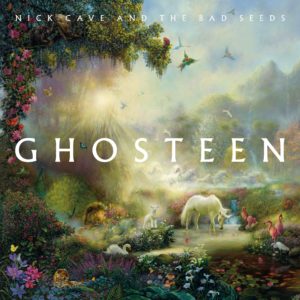 Ghosteen
GHOSTEEN LTD.
9/10
Though loss haunts us all, I can't and won't pretend to know everything Nick Cave felt at the time of 2016's minimalist epic Skeleton Tree—how he chose to be more direct and less allegorical as a lyricist with the thought of losing a child weighing on his soul, which happened halfway through its recording. Nor will I attempt to imagine what any possible healing feels like when it comes to the fuller, rounder-sounding double album Ghosteen.
Who ever truly heals? Cave has spoken about how his son's death changed his work, "to propel [it] beyond the personal into a state of wonder." So Ghosteen is Cave's song of wonder, what he calls "a migrating spirit," moving across perhaps his most lush and lovely melodies yet in a voice that burrows deeper than ever before. 
Without a pulse or rhythmic backdrop, Cave and company seem freer than in the past, achieving an almost Scott Walker–like openness without ever losing a sense of the melodic. With bell tones and a swirling proggy synth line courtesy of Warren Ellis, Cave wearily tells a tale that touches on "the King of Rock n' Roll" (Elvis, on the track "Spinning Song") in life and death before pitching his croon high and weightlessly into a line so simple and dear ("And I love you, and I love you, and I love you… A time will come, a time will come, a time will come for us") that it breaks your heart to hear it.
"We're all so sick and tired of seeing things how they are," sing-speaks Cave—with a phrasing ever-so-slightly reminiscent of Neil Diamond—through "Bright Horses." Here, a lullaby-ish melody with a tender piano line dances with coolly cutting phrases such as "And everyone is hidden, and everyone is cruel / And there's no shortage of tyrants, and no shortage of fools," and there is poetry to be heard in the disaffected.
Moving through questions of the soul ("Well sometimes a little bit of faith can go a long, long way"), Cave's serene "Waiting for You" (in particular) and the slow clanging "Night Raid" take a page from John Cale in their approximation of art song and gospel. Parsing the themes of death and personal grief that have been an element of his work going back to the earliest creations, you can almost feel Cave stretching to be selfless. 
As Cave goes through the first album of Ghosteen, you sense that he's giving God, nature, and the potential beauty of the world the benefit of the doubt and the lightness of his being. The longer songs on disc two are heavier, duskier, and more knowing—less questioning. The peace he seemed at one with on Ghosteen's first half has disappeared by the time he gets to the eerily elegiac closer "Hollywood" and its deeply breathed, repetitive lyrics like "I'm waiting for peace to come."
In the spare, sun-spoken "Fireflies," though, Cave finds his most perfect lyrical movement by intoning God and the universe with the opening stanza.
"Jesus lying in his mother's arms
Is a photon released from a dying star
We move through the forest at night
The sky is full of momentary light
And everything we need is just too far
We are photons released from a dying star
We are fireflies a child has trapped in a jar
And everything is distant as the stars."
Everything might be as distant as the stars. But Nick Cave, on Ghosteen, makes empathy and elegy seem so near and touchable.