Kobe Bryant loved music. Music, and especially those who made it, loved him back.
As news spread that the iconic Los Angeles Laker was one of nine people who died Sunday, January 26, in a helicopter crash in Calabasas, California along with his daughter Gianna, many initially reacted in disbelief. When Ice Cube got a text that Kobe had passed away, his next text was to Kobe. "To see if he would hit me back," Ice Cube said in an interview with Rachel Nichols on ESPN's The Jump in the wake of Bryant's death. "When I didn't get it back, you know, you don't immediately start to worry, 'cause he's Kobe and he always get back sooner or later."
Ice Cube didn't hear back, and soon people from around the world began reaching out to Kobe, eulogizing him via social media and in interviews.
Musicians, in particular, showed an outpouring of love for the late five-time NBA champion who will be inducted into the Basketball Hall of Fame's 2020 class during a ceremony set for August in Springfield, Massachusetts. It makes sense—rappers, of course, have been making references to sports since hip-hop's inception. Even 1979's "Rapper's Delight," the second rap song released commercially and the genre's first commercial success, includes rhymes from Big Bank Hank about boxing icon Muhammad Ali and the New York Knicks.
Rappers have referenced Michael Jordan countless times in their rhymes, and many NBA players, including Shaquille O'Neal, Allen Iverson, and Metta World Peace, have tried their hand at rapping. So did Kobe.
The eleven-time All-NBA First Team selection released his "K.O.B.E." single in 1999. It featured Tyra Banks, and was released by Track Masters Entertainment in conjunction with Columbia Records. His then-labelmates 50 Cent and Broady Boy appeared on "Thug Poet" (along with Nas, via a sample of the rapper's track "Nas Is Like"), the single's B-side. That Bryant could get reputable rap artists to appear on a song with him exhibits the respect they had for the NBA star.
Even when he wasn't making his own music, Bryant made his presence felt. He had a cameo in the video for Destiny's Child's smash 1999 single "Bug a Boo."
But it was more than that. Throughout his twenty-year NBA career, rappers name-dropped Kobe hundreds of times, and several even named songs after him. Among the most notable is Lil Wayne's 2009 track "Kobe Bryant." On this celebratory cut, the New Orleans rapper praises the two-time gold medalist, whom he calls, "The greatest on the court."
In 2011, then-emerging rapper J. Cole name-dropped Bryant in his song "Cole World," a cut from his debut studio album, Cole World: The Sideline Story. "I ball, I ball, like Kobe in the fall," the Roc Nation artist rapped. "Put trophies on my wall, rather trophies on my mantle."
Other major artists name-dropping Kobe include Drake ("Views"), Travis Scott ("STARGAZING"), Kanye West (T.I.'s "Swagga Like Us"), Nicki Minaj ("Ganja Burn"), Big Sean ("No More Interviews"), and Kendrick Lamar ("untitled 02").
Like America itself, rap thrives on winning, and winners, and the celebration of both. That's why artists with NBA franchises in their home towns—like Lil Wayne with the New Orleans Pelicans, or J. Cole with the Charlotte Hornets—are quick to embrace someone who they identify as elite, a champion, pursuing excellence and being rewarded with glory and near universal adulation.
Even Los Angeles, in its sea of celebrity, holds its superstar athletes in the highest of regards. When LA teams are winning, the city rallies around them. "Kobe is some of the glue that holds LA together," Ice Cube said in the interview with Rachel Nichols.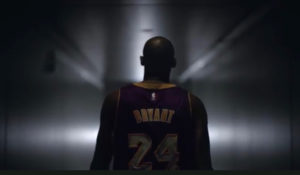 It's no wonder that LA collectively wept Sunday as the news spread that Bryant was dead. After all, it's been less than a year since revered Los Angeles rapper Nipsey Hussle was shot and killed in his beloved Crenshaw district. In a sad twist, Bryant had commented on Nip's legacy soon after he died.
"It's a shame we lost a life so young," Kobe said on Fox Sports, "but I think the legacy he has created will live on and create a far greater impact than he could have ever imagined or hoped to create."
The same can be said for Kobe. He used his 2015 retirement letter for the Players' Tribune as inspiration for Dear Basketball, his animated short film that premiered at the Tribeca Film Festival and won an Oscar for Best Animated Short Film in 2018, making him the first African American to win the award as well as the first former professional athlete to be nominated and to win an Oscar in any category.
Kobe also coached his daughter Gianna's basketball team. Snoop Dogg posted a video of himself with Bryant on a basketball court looking at photos of iconic players, including one of a young, Afro-sporting Kobe taking off for a dunk.
"Love is love," Snoop wrote January 27, the day after Bryant's death. "How much I loved this man. I'm so glad he knew."
Musicians from a variety of genres, including Alicia Keys, Lizzo, DJ Khaled, and Lil Nas X, paid tribute to Bryant on stage Sunday at the Grammys in the Staples Center, where Bryant played for the Lakers. "We're literally standing here, heartbroken, in the house that Kobe Bryant built," Keys said, as she opened the show.
Tributes have continued to pour in across social media from countless artists, including Taylor Swift, Win Butler, Bruno Mars, Cardi B, Kanye West, Lady Gaga, Selena Gomez, Meek Mill, Demi Lovato, Camilla Cabello, Chuck D, Cher, Flea, Vince Staples, Justin Timberlake, and on and on.
Then there was Ice Cube, who rose to prominence with N.W.A., became a solo rap star, and evolved into one of Hollywood's most bankable actors. He was also known for his loyalty to and love for the Lakers. He and Kobe became friends over the years, and Ice Cube mourned for the entire Bryant family the night of the accident.
"I just tossed and turned all night thinking about Vanessa and his daughters, thinking about his mother and his father, his sisters," Ice Cube shared. "Thinking about his Vanessa's parents. Just everybody in his immediate life that loved him, what they lost. I know what we lost as fans. Me, personally, I don't have too many heroes that's younger than me. That was one of them. So I think about the family and I hope the city wraps their arms around the family and embrace them as much as they embraced Kobe, because the family's gonna need it." FL