Fiona Apple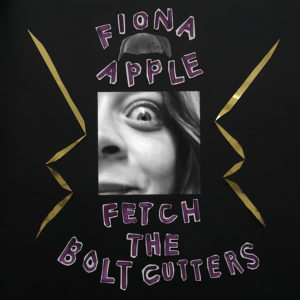 Fetch the Bolt Cutters
Epic
9/10 
For the famously secluded Fiona Apple to drop Fetch the Bolt Cutters during our present day pandemic is like breathing into her own thought bubble a version of Love in the Time of Cholera, observing the confused, disgusted, and lonely yearnings and conversational asides of its subjects while painting an equally stressed, yet resilient, portrait of the self. Only this time, the self is not the wounded, angry bird of Apple's past—but rather someone set to prove her more supple nature, the trauma of familiars that plague her, and a penchant for banging things around.
Titled for a chilly line Gillian Anderson delivers in the British police drama The Fall, Fetch the Bolt Cutters is as cold as it is overheated, as vibrant as it is humble, as noisily rhythmic as it is solemn, and as set-back and alone as it is welcoming of friends and pets. Lots of pets.
Recorded all over her Venice Beach house with contributions from drummer Amy Wood, model/actress Cara Delevingne, Soul Coughing bassist Sebastian Steinberg, and Best Coast's Bobb Bruno—to say nothing of her five dogs—the album sounds lived-in, and yelled at. Everything about Fetch comes across like a series of trailed off and on again conversations and asides made while people prepare dinner. Clanking noises, dogs barking, incessant tapping, and shoe shuffles are all a part of Bolt Cutters' maelstrom. So, too, is the weird solace of the spooky "Newspaper," the thumbed and thrummed spacey blues and zig-zagging backing voices of "Cosmonauts" 
Into this mess—into this voice that is deeper and raspier now, save for a few happily creaky falsettos and false starts that are part of Bolt Cutters' legend—comes everything from the gloriously self-satisfied and celebratory ("I spread like strawberries / I climb like peas and beans" on "Heavy Balloon") to the blameful and shameful who bullied her ("Shameika"), to the "It girls…comparing the way I was to the way she was" on the title track.
Starting with opener "I Want You to Love Me" and Apple's need for desire on her own terms, you sense that her seclusion is over, and that, even though her home and interior life was the most magical muse of Bolt Cutters, it's time to tread alongside real tornadoes, not just the ones of her making. For as brilliant as Fetch the Bolt Cutters is—perhaps her most innovative recording to date—my guess is that the next album goes up as loud as 11.