Florian Schneider-Esleben, co-founder of Kraftwerk, has transported from this world. If the news of his departure feels sudden, it's because the robots' inner circle had been keeping it private like a tightly coiled secret. Succumbing to cancer just days after his seventy-third birthday, the news of Schneider's passing (and sickness) had been hidden from fans until its confirmation this week. This timing is especially tragic as it comes hot on the tracks of newly discovered documentation from the krautrock icons' first North American tour in 1975. Like the flickering sounds of his flute, the elegant android had slipped back into our lives before eternally fading out from the mix.
Kraftwerk's contributions to the electronic acceleration of music stretch as vastly as the highways of Germany, providing foundational building blocks for hip-hop, synth-pop, house, techno, and more. Without them we would not have Afrika Bambaataa's "Planet Rock," Paul McCartney's "Temporary Secretary," Neil Young's Trans, or Coldplay's "Talk" (for better or worse). Their robotic androgyny gave birth to Gary Numan, unveiled Drexciya's underwater cities, and lit the firecrackers of Yellow Magic Orchestra. Schneider himself once earned a name-check from David Bowie, yet he has remained absent from Kraftwerk's 3D tours since his split with the group in 2008. Only by revisiting their formative years, when he and Ralf Hütter first shared the driver's seat, is it revealed how the pair's dapper half propelled them with the power of his breath since day one. 
Schneider emerged from a life of creative privilege with his high-powered architect father financing the band's musical headquarters, Kling Klang Studio. Surrounded by the electrifying energy of Dusseldorf's industrial development, the duo coined the name "Kraftwerk": German for "power station." They had previously performed as members of frazzled psychedelic group Organisation, revelling in orgiastic conga freakouts in their sole filmed appearance. Before that, Schneider cut his teeth in the antagonistic band Pissoff, known for what David Stubbs describes in his book Future Days as "three-hour sets of ultra-loud noise with an aversion to pitch and melody."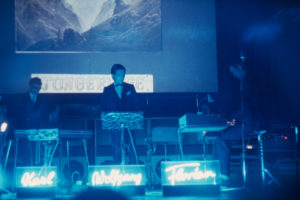 Once Schneider and Hütter waved goodbye to this gang of hippy comrades, they began perfecting their sonic recipes. Kraftwerk's first three albums from the early '70s have been dismissed for too long as transitional experiments leading up to their fully realized robotic pop forms in the years to come. According to the hot take of underground rock druid Julian Cope, they ceased to be relevant after 1973. The real truth lies somewhere in the middle. These traffic-cone tagged LPs have been hidden in plain sight as widely overlooked artifacts of the group's primordial years, pointing the way toward infinite freeways and international fame.    
Listening back today, it's clear that their conjuring of cosmic propulsion was there from the opening song on Kraftwerk's 1970 self-titled debut: "Ruckzuck" (German for "very fast"). Switching between gears of synth, flute, and Andreas Hohmann's proto-motorik drums, its rapid tempo shifts crisscross over eight-lane stereopan effects from producer Conny Plank. The twisting turns of this era would then find future NEU! members Klaus Dinger and Michael Rother joining Schneider in a short-lived trio formation, as heard on a 1971 bootleg that finds them furiously riffing in what could be mistaken for Southern Rock. When Hutter returned to the duo's original incarnation for their third album, 1973's Ralf und Florian, he helped deliver one of Kraftwerk's most gorgeous compositions: the fourteen-minute tropical new age fever dream, "Ananas Symphonie."
In 1974, "Autobahn" delivered the group's earliest taste of worldwide acclaim with its sequenced beats and Beach Boys lyrical punning, spanning an immense twenty-two minutes. It was also at this time that Kraftwerk physically crossed the ocean, touring across the United States and Canada. Just ten days ago, a fascinating recording of their Vancouver performance at the Garden Auditorium materialized, which had eerily taken place on May 7, 1975. It came courtesy of a fan named J.T., who got it from DJ Saul Smaizys, the radio host who would interview Schneider and Hütter for Chicago's WXRT that same year.
The appearance of this newly unearthed seventy-one-minute live recording, just one week before Shneider's death had been verified, made its timing all the more surreal. Hazy takes on "Ruckzuck" and "Autobahn" both make the setlist, but the most notable moment occurs twenty-nine minutes in when the group says, "Thank you, this was the Trans Canada Express." An otherworldly improvised vibraphone jam (sounding very unlike the Kraftwerk listeners knew at the time) leads them into the soft-focus drift of "Kometenmelodie I."
This astonishing auditory time capsule was initially mistitled Kraftwerk – Live in Glebe Auditorium, Ottawa, sending fans from Canada's capital city scrambling to dig up more documentation. Their sleuthing revealed that the Ottawa date (June 6, 1975) had originally been booked at the Civic Auditorium before it was moved to the Glebe Collegiate Institution for a seated crowd filled with "very young people." The curiously named writer Burf Kay—clearly transported by the performance—had even reviewed it for the Ottawa Journal. "The sound swoops from one set of speakers to another," he wrote. "It bounces off the auditorium walls and in and out of your head, so that sometimes you feel your head is the room, or that the room is your head." 
While the live recording could be confused for any of Kraftwerk's Canadian dates in 1975 (Vancouver, Ottawa, Waterloo, or Toronto—possibly inspiring a young Rick Moranis), it's a thrill to hear stories from people who were there in attendance. One of these was electronic musician Scott McGregor Moore, who not only remembers the Ottawa concert but took a series of 35mm photos, scanned from his slides and included in this article for the very first time anywhere. Though he admits to being "pleasantly high" on that evening forty-five years ago, McGregor Moore has some vivid recollections.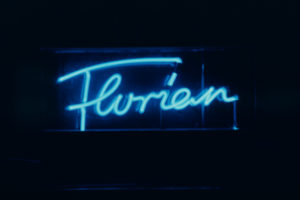 "Kraftwerk's Ottawa concert for the Autobahn tour took place in the Glebe Collegiate auditorium, a good sounding soft-seater room, where many concerts were presented at that time. They had their 'classic' four-person line-up of Ralf Hütter, Florian Schneider, and electronic percussionists Wolfgang Flür and Karl Bartos, who played what looked like music stands with wired drum sticks triggering their sounds. Each had their own neon sign with their name in front. The stage was lit only with four banks of fluorescent tubes: white, blue, and green, sitting around them on the stage floor. Behind them was a white screen that had occasional projections.
"While many people question if later-day Kraftwerk are even playing much of their music live, at that concert there was very little sequencing and no presets," McGregor Moore continues. "Ralf and Florian very actively played their Minimoog, Arp Odyssey, and Synthi A synths, and Farfisa electric piano through phasers and tape echoes plus a little vocoder. Florian's flute playing was still very present, as he floated across 'Tanzmusik' and ripped through 'Ruckzuck'! The climax of the night was 'Autobahn', evolving out of the song elements and into an extended drum groove breakdown with delicious doppler drive-bys, then back into the choruses and a long outro. I left very happy."
Though one of the group's founding members has now made his final exit, the legacy of Kraftwerk will cruise on forever. Celebrating their fiftieth anniversary in 2020, they had previously scheduled a worldwide tour that is planned to resume once the pandemic lifts. As Germany's electronic counterpart to The Beatles, few musicians have left an indelible impact on this many disparate pockets of pop culture. They've inspired b-boys to bust a move with a broom and sent the dancers of Soul Train gliding long into the night. Who else has been name-dropped by The Simpsons, parodied by The Big Lebowski, and covered by Harry Pussy? Dressed to the nines in the neon lights of the afterlife, Florian Schneider is tone floating on a cloud, trilling away at his flute with a sly grin. FL