Moses Sumney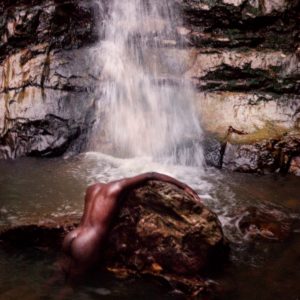 græ
JAGJAGUWAR
8/10
At the beginning of Moses Sumney's landmark, two-part album græ is a mantra central to its theme: "Isolation comes from 'insula,' which means island."
The insula is also a kumquat-sized piece of the brain that is responsible for feelings of anxiety, guilt, and cravings. It receives signals from the body and generates subjective feelings. Its Gray's Anatomy nickname, "Island of Reil," is a misnomer since it's surrounded by activity. Although the insula can cripple you with addiction, if it's removed, you would become an apathetic mass and couldn't discern between pleasure and pain. That slab of tissue hidden within layers of cortex is vital.
The musical signals Moses Sumney's twenty-track epic græ sends out are also vital. He brings shards of art rock, R&B, classical, electronic, jazz, and soul into one beautiful piece of musical kintsugi performed with the precision of a master potter. His music embraces multiplicities of gender, genre, and race. The twenty-eight-year-old Ghanaian-American songwriter also personifies the feelings of an "islanded" individual looking across a vast archipelago of other isolated souls crying out for an emotional Pangea.
Some of these adrift ideas appeared during Sumney's evolution from folk artist to electro soul auteur on 2016's Lamentations and 2017's Aromanticism. Those early folk elements are batted away by industrial drums or the thrash of electric guitars on græ. Even Sumney's gorgeous voice is husky and staccatoed on "Virile" as harps and strings swirl around him. "Cut Me" showcases his falsetto as it slips in and out of the synthetic beat like a snake between warm river rocks. Piano, synths, drums, and cascading horns build up around the vocal performance.
Duality is also a consistent theme throughout the record. A vignette about mortality during the orchestral drift of "Two Dogs" sketches two hounds on the hot concrete of a back porch, and the nocturnal blues track "Keeps Me Alive" examines the magnetism of being a "sucker for codependency."
A female voice switches between the pronouns he and she on "jill/jack," which recasts the mold for anyone who has that "masculine thing down" in the post-MeToo era. The weighty "clunk" of a cassette deck marks the transition to a jazz sequence ("Colouour" and "also also also and and and").
Græ isn't always obfuscating itself by going widescreen with genre experimentation. It can be a crowd pleaser at times, even during its slightly dampened second half. "Bless Me" and "Me in 20 Years" both play like 2010s indie jams if they were constructed by Jeff Buckley and Björk.
Looking beyond key songs and elements, the release cadence for græ is also a masterstroke. The more rock-oriented Part 1 was released in February as the world was staring down the dark hallway in front of us. Part 2's eight tracks are diffused and lean more on electronics and ambiance. This final segment arrives in mid-May as the light at the end of the long hallway only provides chiaroscuro shadows for comfort amidst an ever-encroaching pandemic.
Sumney works best in those gray areas, under the long shadows of a monolithic culture. He actually calls this album a "conceptual patchwork about grayness." The final electric guitar meditation on græ, "before you go," reminds us that "creation stories begin with separation." The end of this story is a way of bringing what was lost back together. After all, the best way off an island is to get a signal out to the rest of the gray world.