Norah Jones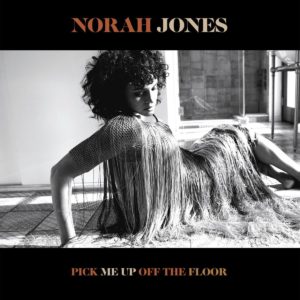 Pick Me Up Off the Floor
BLUE NOTE
7/10
It's become far too comfortable to place Norah Jones into a precious keepsake box as a "torch singer" penning sentimental lounge-jazz songs that lament unrequited or lost loves—though she undoubtedly possesses this specific yearning, this deeply human need to connect with music and use it as a way to heal. On her eighth solo album, Pick Me Up Off the Floor, the singer-songwriter returns to form after flirting with country, rock, and rap/R&B projects since her early-'00s zeitgeist moment (2002's Come Away With Me). The piano is her torch guiding her through the darkness and getting her up every day.
"How I Weep" begins the album on a muted note as if the instruments are slowly waking up. "Flame Twin" and "Hurts to Be Alone" pick up the pace and get a lot of mileage from rich blues-funk and jazz styles, respectively.
There aren't a lot of head-turning genre surprises on Pick Me Up. Jones does continue to show a tactful approach for addressing current events, though. "I'm Alive" is a guitar and piano ballad co-written by Wilco's Jeff Tweedy. The lyrics weigh you down like sinking into quicksand: "She's crushed by thoughts at night of men / Who want her rights / And usually win / But she's alive." Jones meets the feather-light piano with her smoky voice and Tweedy cuts at the air with his acoustic guitar as his son Spencer drums along. A nod to the current administration in America comes next from Jones: "He screams, he shouts / The heads on the TV bow / They take the bait / They mirror waves of hate." 
Beyond the sociopolitical undertones, there are some rare tracks that veer into tedium for Jones and give credence to the knee-jerk lounge act criticisms that occasionally pop up. "Heaven Above" (another Tweedy collaboration) is a pleasing, albeit sleepy ride into the sunset for the album's end. "To Live" accelerates its slow and easy gospel pace with horn accompaniments, but leaves a wispy impression afterwards.
Pick Me Up Off the Floor is filled with rejected songs and collaborative ventures snatched from obscurity. It's surprising how cohesive it sounds, knowing its background. Jones carries the concept of the torch song forward and she is still an impressive singer and piano player eight albums into her illustrious career. She's writing and recording again while in quarantine and it will be interesting to hear what the next chapter sounds like for Jones when she rises up again.