To think the original working title of Sonic Youth's most iconic album was almost Blowjob. When trying to come up with a name for their sixth album in 1990, they wanted something a bit perverse and went with the next best and obvious thing, "My Friend Goo," inspired by one of the album's tracks.
Goo was Sonic Youth melding the textures of their avant-garde, art rock, and experimental noise from start to finish with Kim Gordon and Thurston Moore perfectly playing tag on vocals from the opening riffs of "Dirty Boots," oozing into the infectious "Kool Thing"—Kim Gordon retorting "are you gonna liberate us girls from male while corporate oppression?" to Chuck D—to the combustive "Mote" and finish of "Titanium Expose."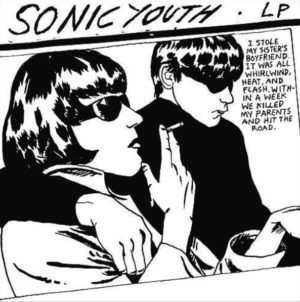 Commemorating the 30th anniversary of the release of Goo on June 26, Sonic Youth's indelible album—which for years has already seen mash-ups of the original cover art illustration by Raymond Pettibon (brother to Black Flag's Greg Ginn) with characters from Stranger Things, Breaking Bad, Pulp Fiction, Star Wars, and Seinfeld, among others—has seen a new shift in the "revamps" of its cover art.
Perhaps inspired by the band's recent release of special COVID-19 face masks and T-shirts depicting the Pettibon illustration with the two characters wearing face masks, much of the more recent Goo-inspired art is addressing everything from Black Lives Matter to the current administration.
Here are some of the standout re-dos of Goo we found:
UPDATE:  T-shirts for charity featuring the "Save Our Youth" artwork (featured above and below) by Look I Drew You (a.k.a. Nicole Aline Legault) are now available to purchase here, with 100% of profits donated to the families of Breonna Taylor and Isaiah Lewis.
Here are some other honorable mentions paying homage to pop culture: