Throwing Muses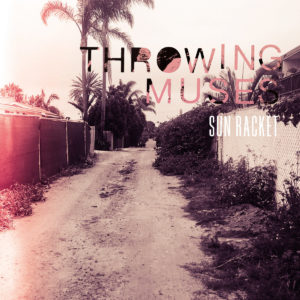 Sun Racket
FIRE RECORDINGS
7/10
Rhode Island alt-rockers Throwing Muses may have slowed down its output in recent years, but when the trio writes new material, it does so with just as much verve and swagger as it ever did. That, in any case, is the most obvious takeaway from this collection of ten new songs and the band's first new album since 2013's Purgatory/Paradise. Sun Racket is a much more concise, less complex affair than its predecessor's 31-track oddball record/book hybrid experiment, and finds frontwoman Kristin Hersh on her trademark fine and fiery form.
Maybe "fiery" is sort of the wrong descriptor (despite the record's title). The first few songs heavily feature water as a central theme, whether used as a cutting analogy for a relationship ("If I were under you / I'd be underwater," Hersh sings on opener "Dark Blue"), as a setting (on "Bo Diddley Bridge"), or as something altogether more absurdist, as on "Bywater," where Hersh laments the death of a pet (of sorts). "'Whose goldfish in the toilet?' / 'Don't flush it…it's Freddie Mercury' / Shining orange, unhinged / A mustached amputee heading out to sea."
So far, so Throwing Muses. Clearly four decades in the music industry hasn't dampened Hersh's spirits whatsoever, nor her bandmates' desire to create music that still stings, still shocks, still surprises. Perhaps the best example of that, both musically and lyrically, is the disaster-ridden "Milk at McDonald's," on which Hersh rasps a litany of surreal imagery over a droning, incessant tune that sounds like a hangover headache, albeit slightly more soothing. "I don't regret a single drop of alcohol / Or saying 'no' when I came," she intones. "Wanted us to stay there forever / That was my greed / Not for more, for forever."
It's that slightly off-kilter poeticism that has always made, and still makes, Throwing Muses such a compelling musical proposition—the band's ability to capture the deepest human emotions and experience through words that don't quite make sense set to tunes that grate you from the inside, make you feel unsettled, paranoid, uncertain about everything. They've done it here once again. Yet while these songs are the soundtrack of an emotional collapse on a personal level, they also capture the dystopian nature of the world as it is today. It's not pretty, and it's not happy, but damn is it an awkward kind of beautiful.