This article appears in FLOOD 11: The Action Issue. You can purchase the magazine here. All proceeds benefit NIVA (National Independent Venue Alliance) and their efforts to save independent venues across the United States. #SaveOurStages
---
As soon as multi-platinum producer Dem Jointz heard Keedron Bryant's voice, the Compton-based producer was on a mission. Like millions of others, Dem Jointz—who has worked with the likes of Dr. Dre, Janet Jackson, and Brandy—was drawn to the powerful words and emotion emanating from the then-twelve-year-old on his gripping, a capella video for "I Just Wanna Live." The clip became a viral sensation—Will Smith, LeBron James, and President Barack Obama are fans—when it was posted in May in the aftermath of the death of George Floyd, who was killed when Minneapolis police officer Derek Chauvin pressed his knee onto Floyd's neck for eight minutes and forty-six seconds. 
Dem Jointz tracked Keedron down and flew him and his mother to Los Angeles. With Keedron's name buzzing in music circles, the young singer soon signed to Warner Bros. Records, which released his debut EP I Just Wanna Live on September 11, featuring production from Dem Jointz. Inspired by the work of John Legend, Marvin Sapp, Jennifer Hudson, and others, Keedron wants to make sure his voice and his message continue resonating. 
Part of what made "I Just Wanna Live" so powerful was seeing you standing up for what you believe in and what you know is right. What has the song's success taught you, Keedron, about the importance of standing up?
Keedron Bryant: After the song went viral, people were telling me that this is the new Black anthem for 2020, and that for years and years to come it's going to be our anthem for freedom. That's when I said that I have to keep on being the face [for the movement] and not get off the path. That's why standing up is one of the keys to keep being the face—because I don't want to just put out a song and then months later nobody knows about me, and people are like, "OK, that was just one little video." I can keep standing up, keep on proclaiming freedom, keep doing the work that God wants me to do. I had to not be afraid of what people are gonna say about me. It's been hard, but I'm still going to keep trusting in God, and He's been protecting me.
Dem Jointz, I think there's a common refrain that people don't want to hear about political messages in music. What do you think this song shows us?
Dem Jointz: God's given us a gift to where we can actually create a way for them to want to hear [messages]. Just off the video alone, outside of the message being so urgent, his voice is crazy. So then you just see this young kid crying out, and that alone touches you, even if you set aside what he's crying out about. But I think these talents that we put in together strengthen what the message is.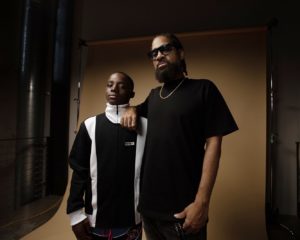 Keedron, at the end of the "I Just Wanna Live" video, the officer is approaching you with his hand rather than a gun. Why was that important to put in the video?
KB: Police officers need to hear our cry, and that scene was basically around that point of view. The police officer heard our cry and so he put a hand out to just help in a way.  
DJ: I feel like it was more of a symbol of hope. That's what we would hope to see as opposed to what we've been witnessing.
Throughout the entire campaign, Keedron, you've been doing interviews with your mom. What was special about being able to sing a song that your mom wrote and do stuff with her on the promotional side?
KB: That was one of the best collaborations that I did with my mom. So it was like, "Wow," just to get that kind of impact from that collaboration for "I Just Wanna Live." It's always good just to work with my mom because she's very, very intelligent and she knows me.  
Dem Jointz, how did you first hear "I Just Wanna Live?"
"I don't want to just put out a song and then months later nobody knows about me, and people are like, 'OK, that was just one little video.' I can keep standing up, keep on proclaiming freedom, keep doing the work that God wants me to do." —Keedron Bryant
DJ: I was at the house chilling, watching TV with my girl. She was on Instagram and she's playing Keedron's a capella. So I heard his voice first. I didn't even know what he was singing about. I just thought his voice was amazing, so I paused the TV and we're listening to him and he gave me that moment, that moment when you listen to songs and it hits you in the gut, gives you the chills. It was difficult to ignore. I was like, "I gotta do something with this."
A lot of your work, especially the stuff that's gotten notoriety, has been with super established artists. So given that, how have you found working with Keedron is similar or different from the Janet Jacksons or the Dr. Dre's of the world?
DJ: To be honest, I don't think about that, because if I thought about that with Dr. Dre or Janet Jackson and I'm like, "Oh my God, I can't believe I'm in the studio with them," then I probably wouldn't be able to perform. I try to be the same, keep the same professionalism, and just do my thing. But the crazy thing about it is that Keedron's first time in the studio, he was professional. He caught on quick. After a couple of hours in there, man, you could have sworn he was a professional that's been in there for years. You start realizing all the different talents that he has as you go. Man, it's a blessing.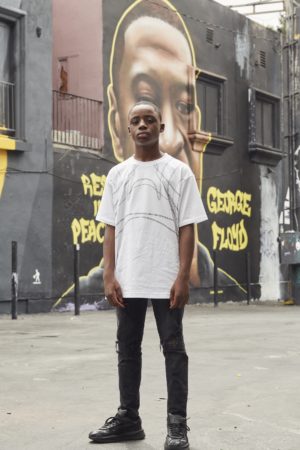 As you work on Keedron's debut project, what are you trying to bring out of him as a producer?
DJ: He's a crazy singer. His voice is incredible, so of course we have to utilize that. You're definitely going to hear more thoughts on different topics surrounding "I Just Wanna Live." But at the end of the day, it's banging. It's super dope. A lot of it is from the perspective of a thirteen-year-old boy. I feel like he is the voice of the people, and that's pretty much what I wrapped everything around.
What made you choose "You Got This" as the second single?
DJ: Dealing with quarantine and coming out of racial injustice, we can assume that it's exhausting, everyone's tired and might be feeling down. It's summertime and we're not necessarily taking advantage of what comes with that. So we felt we wanted to switch it up a little bit and give the people something to feel good about, the light at the end of the tunnel type situation. It's more motivational. Anyone feeling doubtful about whatever they're going through, it's for them. No one's really talking about people recovering from COVID as opposed to people catching it, so we're just underlining the brighter side of things on this and just keeping it motivating and inspiring. And it's funky. FL