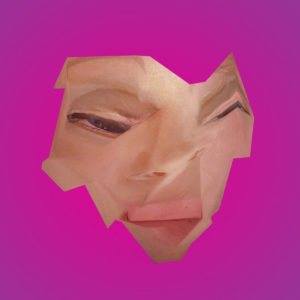 Tobacco
Hot Wet & Sassy
GHOSTLY
7/10 
Tom Fec was quick to admonish contemporary electronic music as "clinical, sterile, and dry" in 2016, leaning into his already well-established ethos of analogue outsider. Beyond fronting the phantasmagoric synth pop outfit Black Moth Super Rainbow, his solo contributions under the Tobacco moniker have earned renown for their creeping, disconcerting flavor of electronica, twisting vintage synths and the human voice into hauntingly grooving bops. Yet with Tobacco's return in the form of 2020's Hot Wet & Sassy, much of the grime that had come to define Fec's sound has worn off, revealing a dulled shine beneath the surface that still resonates as innovative, but not necessarily boundary pushing.
This new approach is in large part self-imposed—Fec himself described his instincts on this record as "[going] from 'what would the Butthole Surfers do' to 'what would Cyndi Lauper do.'" It's a rare instance of an artist making the intentional, well-publicized effort to reel back experimental impulses and create something more accessible.
These impulses aren't without merit—tracks like "ASS-TO-TRUTH," "Jinmenken," and "Body Double" see Fec dusting off 808s and cool keys to deliver classically twisted Tobacco vamps, replete with Black Lodge vocoders and shuffling, compressed beats that wouldn't be out of place in a heat-warped VHS tape. Yet one can't help but feel that in curbing the blown-out distortion present on albums like Ultima II Massage or Sweatbox Dynasty, this new sound is comparatively hollow, lacking the characteristic hisses and otherworldly overlying synthetics that came to define Fec's sound. 
It's the moments on this record when Fec leans most into his repertoire that the tunes begin to engage listeners on a visceral level—the overblown bass of "Stabbed by a Knight," the forward-focused griminess of "Chinese Aquarius," and the disconcerting shift between pristine arpeggios and gurgling vox of the Trent Reznor–featuring "Babysitter" are welcome additions to the Tobacco songbook, characteristically pop in nature but rife with flitting, dark impressions. Similarly, tracks like "Pit" and "Motherfuckers 64" lean into Fec's knack for splitting the difference between the sonically grotesque and popful drive—although in the context of this record's forty-minute runtime, these moments are scattered.
Synth-driven pop has changed considerably since the last Tobacco release—almost to the point where excessive, hedonistic electronic music has become a borderline trope. While Fec remains the progenitor of off-kilter computer music, and his latest effort showcases his explosive instrumental arsenal, it's hard not to see Hot Wet & Sassy as just shy of the mark for an artist who always seemed to be three steps ahead of everyone else.