Oneohtrix Point Never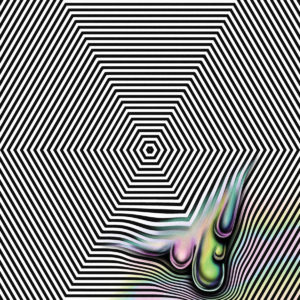 Magic Oneohtrix Point Never
WARP
8/10
The line between radio broadcast and playlist can be fine. Both stick to a theme, but song formats can sharply diverge—one is charming and antiquated, the other sleek and utilitarian. Electronic luminary Daniel Lopatin's ninth record as Oneohtrix Point Never, Magic Oneohtrix Point Never, feels like the fusion of the two, old and new, into one. 
Winking, garbled radio ads are peppered throughout, both as interludes and vehicles to boost Lopatin's nostalgia mythos. The album title itself alludes to a Boston radio station, Magic 106.7, that Lopatin used as inspiration for the OPN moniker in a game of telephone-like logic. MOPN's radio world is a clever motif that gives Lopatin carte blanche to dabble in a stunning number of genres, structures, and styles that he's experimented with over the years—hence, the self-titling. It flows like a "best of" playlist of one of electronic music's most innovative and indelible artists.
Of course, MOPN is not literally a rehashing of Lopatin's old albums, but it does borrow a number of their styles while still pushing his penchant for pop abstraction further. The burnt out beauty of a song like "Imago" evokes wispy expressionistic mystery albums like Replica or Russian Mind did years ago. The spacey, wandering synths on "Wave Idea" sound like a meditative lull plucked from the Uncut Gems or Good Time soundtracks Lopatin composed. This expansive mood music, filtered through his lens of internet detritus, is what Lopatin has excelled at for years. When this ambience accents against MOPN's forays into pop music, it feels elevated.
In an endearing move, Lopatin started to incorporate his voice in conspicuous ways on projects like Garden of Delete and Age Of, in nu metal shrieks or new age croons. On MOPN, his vocals are more frequent, techniques more varied. On closer "Nothing's Special," his singing is mournful and uncharacteristically naked. On "I Don't Love Me Anymore" he sounds tinny and caffeinated, or perhaps like a fifth member of Animal Collective.
But nowhere are his vocal experiments more transcendent than on "Long Road Home," a gleaming piece of demented baroque pop featuring experimental contemporary Caroline Polachek. Naturally, Lopatin's voice is produced to sound garbled and frayed—like a friendly demon. The animated drama of the electronic strings against the duo's warped singing is unexpected bliss, only possible at this moment in Lopatin's career.
Speaking of collaborators, this is the most features-packed OPN album by a stretch. "The Whether Channel" gently solidifies synth and string ambiance into oddball trap featuring Virginia SoundCloud rapper Nolanberollin. Elsewhere, Lopatin pitches his version of John Hughes credits music with "No Nightmares," featuring recent musical co-conspirator The Weeknd. Even Arca makes an appearance on "Shifting," reciting some haunted spoken word passages. "Push forth," she instructs over wailing theremin, "through the membrane."
MOPN's tonal and sonic erraticism is both refreshing and frustrating. On this project, it makes sense for Lopatin to pour out the playfully dystopian signifiers that constitute OPN like toys on the carpet. The anything-goes style of a radio broadcast, while not new as a framing device, does lend Lopatin's choice tonal heft. But regardless, many songs have truncated or no endings at all to them, as Lopatin flits from one broadcast to another. MOPN also lacks the cohesive melodrama and stronger world building of albums like the guttural Garden of Delete or R Plus Seven's hard-edged abstraction. Still, accepting Lopatin's commitment to ephemerality and looseness here yields rewards that his other albums cannot.
All of this is to say, Magic Oneohtrix Point Never is an OPN album through and through. Lopatin's brushes with fame—soundtracking an Adam Sandler comeback hit or playing '80s keyboard on SNL—have not affected his flagship project. If anything, this is the most like himself he's sounded yet. Magic Oneohtrix Point Never is untethered in many respects, but makes perfect sense as a self-titled work: surreal, unpredictable, magic.