The halftime show of Super Bowl XLIX lacked any salacious wardrobe malfunctions or sudden blackouts, but headliner Katy Perry still put on a performance to remember. Perry's fifteen-minute marathon of hits hit the mark, but some of the most exciting moments were delivered by one confused shark, a massive mechanical lion, and the return of Missy Elliott.
Perry's parade of songs—"Roar," "Dark Horse," "I Kissed A Girl," "Teenage Dream," "California Girls," and "Firework"—are a tradmark of the caffeinated and confident pop star's solidified hit list. Making a triumphant entrance on a gigantic mechanized lion (we see you, puppeteers!) for "Roar" (in an outfit reminiscent of a bag of Flamin' Hot Cheetos, no less), Perry was, approximately four seconds in, already in her candy-coated comfort zone of outrageous outfits and larger-than-life props. There were dancing palm trees, horse-headed go-go dancing chess pieces, and one mixed-up shark that did not give a fuck about getting his dance moves right. Perry capped it all off by riding through the sky on a shooting star that was basically the "The More You Know" logo in a dress made of aluminum foil and confetti—this, ladies and gentlemen, is peak Katy Perry showmanship.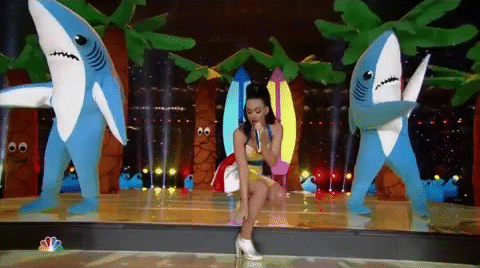 But, it was Missy Elliott's appearance mid set that made everyone remember why the rapper was such a star a decade ago. Her three-song sucker punch of "Get Your Freak On," "Work It," and "Lose Control" had Katy Perry dancing with awkward conviction in the background, effectively relegated to Elliott's hype woman. Short and sharp, Elliott's appearance was exactly what was needed to keep the pace upbeat and different (and our attention spans alert).
So Katy Perry can officially celebrate her successful debut Super Bowl halftime show appearance; in the meantime, we'll be here…waiting for Missy to release her next album (that we didn't even realize we needed this badly).