The glass, which was pretty darn full early in 2020, emptied very quickly, very suddenly, in mid-March. Then, the glass was smashed and shattered and the shards spread across America.
Yes, we're talking metaphorically about live music venues. Up until that time, the concert world had been moving forward. There was life in clubland and fans and musicians were looking ahead to the seasonal summer outdoor shed shows. The pandemic brought everything to a screeching halt; life as we knew it changed radically for everyone. Venues were shuttered—some temporarily and others, as it turned out, permanently.
If we wanted to hear live music, we had to go online and get used to the increasingly frequent and only minimally satisfying virtual live event. Now, with Congress finally passing a $900 billion COVID-19 Relief Bill, which includes $15 billion in "dedicated funding for live venues, independent movie theaters, and cultural institutions," this question arises: Is this new glass half-full or half-empty?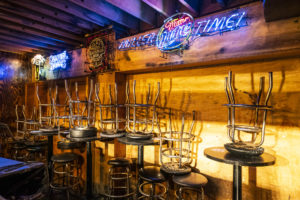 It depends who you talk to. Certainly, it's ironic and bittersweet news for some. Too little, too late. There have been approximately 300 permanent closings across the country. Blame can be thrown every which way—most of it on Mitch McConnell and the Republican-controlled Senate—but suffice to say Congress did nothing until after the election. "It's definitely bittersweet—super bittersweet—because they really could have done this before and they couldn't come to some agreement," says Christine Karayan, owner of the West Hollywood club the Troubadour.
A month after the widespread closings took effect, a consortium of independent venues formed—and grew to 3,000 strong—called the National Independent Venue Association (NIVA). It launched the Save Our Stages (#SaveOurStages) campaign shortly after the shutdown and began lobbying for the passage of a relief bill.
On December 20, Dayna Frank, NIVA Board President and owner & CEO of First Avenue Productions in Minneapolis, said, "We're thrilled that Congress has heard the call of shuttered independent venues across the country and provided us a crucial lifeline by including the Save Our Stages Act in the COVID-19 Relief Bill. We're also incredibly grateful that this bill provides Pandemic Unemployment Assistance which will help the millions of people who lost their jobs through no fault of their own during this economic crisis."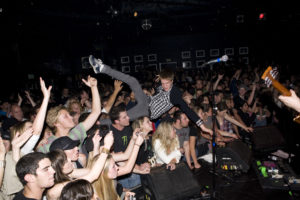 The following day NIVA released this statement: "The Save Our Stages Act, sponsored by Sen. John Cornyn (R-TX) and Sen. Amy Klobuchar (D-MN) in the Senate, Rep. Peter Welch (D-VT) and Rep. Roger Williams (R-TX) in the House and championed by Leader Chuck Schumer (D-NY) with 230 bipartisan cosponsors in Congress, just passed as part of the COVID-19 Relief Bill. The Save Our Stages Act will provide financial assistance to independent venues and promoters that have been devastated by the pandemic's shutdown. The Save Our Stages Act will enable these locally owned businesses to hold on until it is safe to gather, reopen fully, and once again return to serve as economic engines for their communities. We look forward to this being signed into law. NIVA […] is grateful not only for this crucial support for an industry that has been on the verge of mass collapse, but also for the accompanying COVID-19 relief to millions of unemployed workers across the country who have been sidelined through no fault of their own by the economic fallout of the shutdowns."
Klobuchar told Variety: "The money, of course is something akin to 1% of the total $900 billion package, and I think there is a really strong understanding now that some businesses, especially smaller businesses, are hit harder than others—the tech industry is doing fine; restaurants and stages are not. That's why you see more attention being paid, in addition to the PPP loan program, to these kinds of grants, to businesses that are harder hit." The bill awaits President Trump's signature.
It's good news, but many issues remain. Michael Dorf, owner of the City Winery chain, calls the bill's passage "excellent," but has questions about the allocation of monies. "How they define that, I'm not sure. We know the number, $15 billion, but the question is going to be the metrics—will it be based on tickets sold in 2019, is it based on capacity, multiplied by the number stages? Obviously, it's some relief we're all anxiously waiting for, but we don't know [the particulars] yet. But any and all funding, because we're all so desperate, is incredibly well-received."
Dorf, who has flagship clubs in seven cities, expects most of the tours scrapped in 2020 will be rescheduled for 2021—if they haven't been already—but noted Sinead O'Connor, who had a skein of shows planned at his clubs, has said she won't be back until 2022. Dorf also says City Winery was fortunate in a way because they have a culinary program—"wine gardens outdoors, some outdoor dining and some indoor"—that most venues lack, so they've had some cash flow. "We lost money, maybe a little less money, but the true heart of the reasons we tried to stay active is it kept our staff employed."
And what about fans? Will they rush to return to live music as soon as regulations permit? "From what I'm reading," Dorf says, "150 million Americans will get the vaccine by mid-May. Those are health workers and the elderly—not concert goers, specific to our business. Then the next 150 million are much more concert goers, and from May to August those vaccines are going to be very important for people to feel comfortable. By September, they're predicting a herd immunity. I don't think we'll see indoor concerts happening until fall. Will they allow for full capacity right away, or will it be a full ramp-up? I think we're gonna walk before we can run."
The Troubadour's Karayan, who doesn't foresee anything approaching normalcy until the fourth quarter of 2021, considers the bill "a huge lifeline" but wonders about a variety of issues. Clubs make the bulk of their money selling drinks, not tickets. How will that happen? Can staff be close enough to fans to attach wrist-bands? Can fans sit next to each other on bar stools? What are the liability issues if someone catches COVID-19 from being in a club like Troubadour where people stand, jostle, and dance? Will insurance even cover this?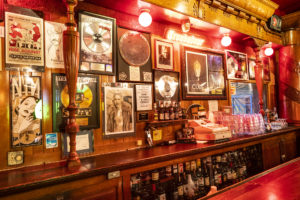 Audrey Fix Schaefer, Communications Director for NIVA and the Washington, D.C.-based promotion and production company I.M.P., as well as four D.C. venues, calls the bill's passage both "a tremendous relief" and "surreal." She says its passage signals the beginning of Phase Two, with a lot of issues to sort out "between getting the law passed and getting the money into people's bank accounts."
NIVA members met virtually on Zoom the morning of December 22, and Schaefer says they instantly thought, "'What do we need to do next to make sure the process is done accurately and expediently?' We'll have to work with Congress to have the correct understanding of our industry so the system will work the way it's intended. We have achieved something nobody thought we could, but we always knew that was Phase One. It's a new program the Small Business Association will have to create." One good thing, Karayan says, of the bond NIVA created: "If nothing else, we have each other's back, that's the one silver lining that's come out of this mess."
Schaefer says many localized subgroups of NIVA have formed as well—in New York, Chicago, Austin, and elsewhere—to put together specific plans and requests for their areas. In Somerville, MA, JJ Gonson, self-described proprietrix of the club ONCE, was assembling a statewide coalition. It's ironically bitter, because her 10,000 square foot club was permanently closed last month. But, she says, "Even with subsidies, there's no way that would have been enough for us. But we have every intention of coming back." That is, in a different location and with alternative funding.
Robert Mercurio, who doubles as bassist for the jam-funk band Galactic and co-owner of the New Orleans club Tipitina's, says, "It was a long hard fight to get this across the finish line and I couldn't be more proud of the NIVA team for their determination and drive to help save live music venues. There is a light at the end of the tunnel. We're feeling more confident that we can make it through this."
As a musician, he adds, that by this point in the year Galactic normally would have played a hundred shows—as it turned out, between outdoors and virtual concerts, they played just six. "Yes," he says, "I am rusty." But happy-ish. His band and his club will be alive and kicking. FL