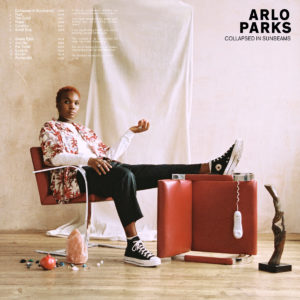 Arlo Parks
Collapsed in Sunbeams
TRANSGRESSIVE
8/10
"We may have officially found the voice of Gen Z," says yet another millennial music writer trying desperately to tap into what makes the zoomers tick. In all seriousness, though, this "voice of Gen Z" signifier is something I've seen attributed to London singer-songwriter Arlo Parks more than a few times. Listen, I get it—she's barely twenty years old, immensely talented, and has the ability to spin hyper-specific yarns of ennui, unabashed mental health examination, and a kind of borderless individualism. But to pigeonhole Parks (born Anaïs Oluwatoyin Estelle Marinho) as evocative of only a single generation is to reduce her blossoming skill as a songwriter, which is generationless in its ubiquity. 
Aside from her obvious songwriting gift, much of Parks' precipitous rise can be attributed to her association with popular contemporaries. In her short time as a recording artist she's already collaborated with such indie-pop titans as Clairo, Glass Animals, and Phoebe Bridgers. She's also not afraid to wear her influences proudly, name-dropping the likes of King Krule, Earl Sweatshirt, and Snail Mail as inspiration. While these influences are littered throughout Collapsed in Sunbeams, Parks' real skill is finding a lane snugly between these names. Yes, it's got the cracked-sidewalk potency of King Krule, the bedroom-pop sensibilities of Clairo, and the cleverly devastating tone that's made Bridgers a household name, but Parks is able to achieve a collision of cool and gut-wrenching that is all her own.
Take the standout single "Black Dog" which opens with the preternaturally evocative lines, "I'd lick the grief right off your lips / You do your eyes like Robert Smith," only to deliver ten lines just as good, capturing an intimate moment of one friend desperately trying to help the other escape the the throes of depression, all over a mesmerizingly simple finger-picked beat. "Caroline" is another highlight, a more upbeat, Sunday-morning pop song that tracks, as few other pop artists could, a fight between a couple on a bus. It takes a few listens to get beyond the song's surface pleasures—the chorus of "Caroline, I swear to God I tried" will be stuck in your head for days—but once you do, you'll find the most crushing example of an attempted blunt rolling ever put to tape. 
Where Collapsed in Sunbeams falters is more in construction than execution. In a cover story with NME, Parks expressed her reverence for the album as a "cohesive statement," but unfortunately this doesn't fully pan out on this record, where things begin to become interchangeable, especially toward the back half. It's not that these songs don't work, necessarily, but the kind of bedroom, R&B-infused pop doesn't quite register the same way on the ninth version as it does early on. Of course, with the way more listeners consume music, this won't matter all that much, as each song on Collapsed in Sunbeams surely has something to offer on its own. This is more a nitpick than anything else, as even with its flaws Sunbeams establishes Arlo as an artist who finds middle ground between nonchalant cool and somber earnestness in a way few artists can manage.