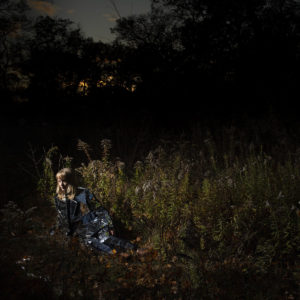 The Weather Station
Ignorance
FAT POSSUM
9/10

The beginning of a breakout album can sometimes sound meek and hesitant in its first seconds, akin to a young deer wobbling into a new environment somewhat unsure of any danger ahead. That doesn't last too long on the opening track to The Weather Station's Ignorance—any slow-burn feel quickly turns into the audio equivalent of a smoke stack enveloping a skyline with an ominous miasma. A prattle of percussion and an ominous, Talk Talk–like chord progression slowly releases more wisps of woodwind and strings on the apocalyptic stunner "Robber." Fitting for a record influenced by climate change.
The Toronto-based songwriter Tamara Lindeman sings through the haze with her resonant alto, "I never believed in the robber." She sets the scene for the track and album so well, a chiaroscuro depiction of greedy ExxonMobil tycoons she read about in the news. They're writ large on the track as mythic villains scheming during fancy white-tablecloth dinners with political dignitaries. Lindeman said she wrestled with "climate grief" among other personal issues during the recordings in the spring of 2019.

Ignorance is truly a masterful statement for The Weather Station, a project that before this year was quietly churning out competent indie-folk albums and EPs over the last fifteen years. Whereas 2017's self-titled release was her "rock and roll record," this new intrepid effort blooms beyond her Americana roots and calls to mind a colorful bouquet of influences—Talk Talk, Joni Mitchell, Roxy Music, Fleetwood Mac, Kate Bush, Kratwerk, and New Order immediately come to mind.
The record comfortably sits in that analog-to-digital twilight where '70s stadium rock bombast and early '80s synth experiments converged paths in the wood. Tracks such as "Trust" and "Separated" at first read like rote relationship dramas underpinned by a dance of piano and percussion, but there are always sly ties to the natural world either through the lyrics or just the way the production rushes like a gust of wind through a dense forest. "Trust," for example, details a divorce from the planet or a lover in an almost fantastical courtroom setting where "Baskets of wild roses / Crumpled petals and misshapen heads of reeds and rushes / Bodies of the common birds / Robins, crows, and thrushes" are laid out as evidence for a mysterious jury.
The best track on the album is "Tried to Tell You." It recalls the contemporary artist Weyes Blood and her recent record, Titanic Rising, another wondrous LP influenced by climate change and 1970s rock and pop. (Lindeman was actually also influenced by Weyes Blood.) This track fits the overall theme. "I feel as useless as a tree in a city park / Standing as a symbol of what we have blown apart," Lindeman sings over a roaming beat. The twinkling piano- and percussion-driven wonders "Atlantic" and "Parking Lot" slot into this '70s aesthetic as well.
The Weather Station has also morphed into a full band now on record, with bass, percussionists, and jazz musicians on saxophone and flute. Johnny Spence (Tegan and Sara) on keys and Christine Bougie (Bahamas) on guitar play off Lindeman's piano, vocals, and guitar solos. Lindeman and her economical way with lyrics are the true heart of the record. On the album cover, Lindeman rests in the grass wearing a homemade mirror suit that resembles a knight's armor. It's a fitting visual metaphor for a record entitled Ignorance, where many of the tracks reflect a world on the brink of cataclysm, with its fearful, angry, and petty inhabitants not wanting to accept what's on the horizon. Even amongst the chaos, there's a shaded beauty reflected back as well.