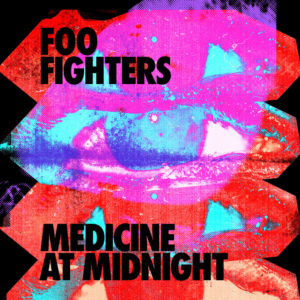 Foo Fighters
Medicine at Midnight
RCA
6/10
Do you find yourself wanting to spice things up, or would you rather not ruin a good thing? The highly anticipated tenth album from rock staples the Foo Fighters, Medicine at Midnight, dabbles with a new pop sound while also holding true to their classic rock roots. "I guarantee that most musicians have that groove or vibe somewhere within them," Dave Grohl said in an interview with Apple Music when discussing the album's new funky elements. "They just have never found the right time or place to let them out." 
It's no secret that the Foos have their signature style; one could argue that a lot of their music follows a specific formula which they hardly ever waver from. Medicine at Midnight takes the strongest parts of that formula and adds in some pop-funk, creating a spectacular new vibe for the band. The album has a total of nine songs, which meant the band opted to pack a lot into a smaller amount of time. 37 minutes of reinvention, while holding true to your roots—truly a Dave Grohl move if we've ever seen one. 
The album opens on "Making a Fire," which is one of the most light and fun songs we've heard from the Foo Fighters to date. You'll immediately find yourself swaying to a choir singing "Na na na" in the background, while floating away to Grohl's voice as he talks about celebrating life. The single "Swing Swing" follows the opener, and now we're starting to see the new style of Medicine at Midnight as the Foos drop in the pop elements Grohl's been hinting at. Much of the rest of the album actually reverts back to the '70s classic rock theme that the Foo Fighters have always held on to—if it ain't broke, don't fix it, right? 
In contrast to its opener, final track "Love Dies Young" wraps up the album in a less positive light. However, the track still emulates the new pop vibrations of its opener where even through the darker message you find yourself jumping up and down to the guitar riffs and drum beats—it serves up Walk the Moon vibes mixed with Fleetwood Mac.
Medicine at Midnight reminds us that no matter how long you've been around, there's no time like the present to reinvent yourself. The Foos have their perfectly crafted formula that has worked for years, but with this new album we see them finally dabbling with something different. While there are moments of vulnerability and sadness, the album is overwhelmingly positive and reminds us that life is short; live it to the fullest—and if you want to add some funky grooves into your music, don't think twice about it.