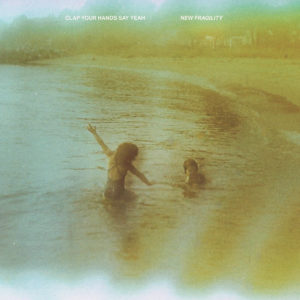 Clap Your Hands Say Yeah
New Fragility
CYHSY/SECRETLY
6/10
Alec Ounsworth continues to tread onwards as a one-man band after parting ways with his bandmates during a pretty unremarkable stretch in the 2010s for his perennially manic indie-rock project Clap Your Hands Say Yeah. Ounsworth once studied anthropology, so it's fitting that every CYHSY album tears away at layers of exoskeleton to pick at the tender underbelly of emotions we all keep buried just under the surface. The title to his sixth album, New Fragility, is taken from a line in a short story called "Forever Overhead" from David Foster Wallace's Brief Interviews with Hideous Men. It speaks to the crystalized pain heard on these ten tracks.
The record follows in this confessional tradition and wrestles with heartache ("Where They Perform Miracles"), self-medication ("Dee, Forgiven"), anxiety, and depression—Ounsworth seems to stand alone between the past and mortality. There's a creaky weight to the album right from the outset, as heard on the more raucous openers "Thousand Oaks" and "Hesitating Nation." Those two songs are more politically charged after Ounsworth experienced the last four years in America. The only overtly political theme he's flirted with on previous records was the acoustic closer to his fan-favorite 2005 debut, "Upon This Tidal Wave of Young Blood." The synth-led "CYHSY, 2005" also has a similar windswept feel to it as it lifts off and tips a hat toward the past.
Ounsworth started that debut album sounding like a sloshed carnival barker, but his vocals have only softened over the past fifteen years as he's slinked from the limelight. His voice is still an acquired taste, akin to a stiff drink sloshing around in an empty stomach with moments of acidity for a chaser as he caterwauls over each melody and instrument in his path. Marrying that immediately recognizable voice against a string quartet and arcing guitar solo on "Innocent Weight" makes for a curious listen, but piano and toy piano slot nicely alongside Ounsworth's yowling on "Mirror Song."
Overall, New Fragility is a downer and not a perfect release by any stretch, but it does fragment the customary expectations saddled with a new Clap Your Hands Say Yeah album and builds up a better framework for Ounsworth in its place, ready for new adventures using old garments ("Went Looking for Trouble") or sinking to the depths with only your voice and a piano ("If I Were More Like Jesus"). Sometimes a towering solo album wearing a full band's clothing can show the stilts underneath creaking under the weight. You have grown into a new fragility, Clap Your Hands Say Yeah.