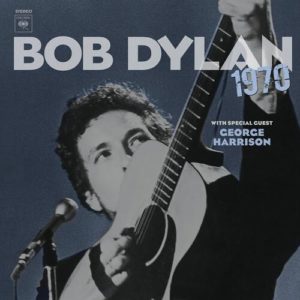 Bob Dylan
1970
LEGACY/COLUMBIA
8/10
Anyone familiar with the idea of pressing lost or near-lost recordings for the sake of fifty-year-old copyright protection issues should be thrilled by this extended release of Bob Dylan's 1970 package. Initially made available in Europe last December in very limited quantities, this mini-box features fluidly funky outtakes from often-neglected Dylan album sessions for New Morning and Self Portrait (not made available on Dylan's long running Bootleg Series Vol. 10: Another Self Portrait) among others, together with a mystery May 1970 layabout recording with George Harrison close to the time of The Beatles' demise.
No selection on 1970 is as intricate and intoxicatingly intimate as "Winterlude" or "Went to See the Gypsy" in its multitude of takes. A commanding Dylan track, "Gypsy" finds its protagonist entranced by hidden marvels, showbizzy and surreal, with lyrics such as "Go on back to see the gypsy / He can move you from the rear / Drive you from your fear / Bring you through the mirror / He did it in Las Vegas / And he can do it here." But they sure do try to maintain a similar sense of intrigue.
While the treasured melody and tender missive of "If Not for You" gets a handful of worth-hearing stop-and-start workouts, and the sternly serene "Sign on the Window" sounds charming in its freshly found stereo mix, it's the loose grooving ramble of Dylan's primary band (violinist David Bromberg, bassist Charlie Daniels, organist Al Kooper) that is the main attraction. They allow Dylan the license to relax, with a sort of softer spun sense of—quite frankly—fun. An easy, unfinished portrait of The Beatles' "Yesterday" with Harrison, the pair's cutting loose on a rebel rousing version of Carl Perkins' "Matchbox," even a blowsy take on Harry Belafonte's "Jamaica Farewell," a blue Dylan riffing through a wily "Alligator Man" in both a rock and a country version—all head-turners, and worth the wait as well as the money.