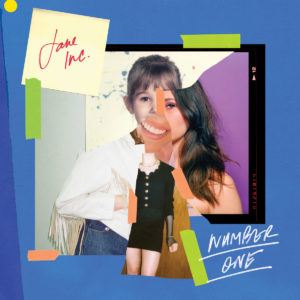 Jane Inc.
Number One
TELEPHONE EXPLOSION
7/10
As a musician who's shared stages with artists like U.S. Girls and Ice Cream, Carlyn Bezic is no stranger to performing fluorescent, '80s-indebted rock. On her debut album under the moniker Jane Inc., Bezic plays a small army's worth of instruments while simultaneously acting as her own co-producer. As self-awarely gaudy as its dizzying cover, Number One sounds like Melody Prochet scoring Miami Vice. If U.S. Girls is music for having a sophisticated conversation at a summertime rooftop party, Jane Inc. is that project's evil twin. It's a hard hitting collection of songs that pack a glamorous punch while simultaneously flaunting an ominous energy.
Number One is tied together by an aesthetic that sonically evokes the neon lighting of the Las Vegas strip. Slammed snare drums, shuffling basslines, and jagged FM synthesizers are over-the-top enough to recall the rowdiest club on a cruise ship. The expansive musicianship on "Dirt and the Earth" is reminiscent of Japanese city pop, were an artist like Haruomi Hosono to cover a ballad by a hair metal band. "Steel"'s metallic key parts and pounding groove are true to the song's title. Vocoder processing tops the sparse-but-pounding track until a fuzzed-out guitar solo interjects. "My Oldest Friend" uses an accented groove to lay the framework for a track that feels like it's disintegrating. "Here we go again / Me and my oldest friend," Bezic drawls over an art school shuffle that abstractly brings to mind Blondie. Her dextrous, impressive chops as an instrumentalist rarely take restraint into account, but the record's excess is exactly what keeps its grandeur endearing.
Inspired by a collaged visage of a fragmented face, Number One often feels as disjointed as its ethos. The flesh that binds the record is always the same tone, but its bone structure varies from track to track. This is especially true of the record's back half, which switches between propulsive rock and jagged ambience. For evidence, look no further than "Mine/His" into closing track "Obliterated." The former dabbles in vague, brutalist synth noodling, which fluidly morphs into the record's smoothest cut. The two songs couldn't be more different, but in the context of the album's flow, listening to the transition will barely make you bat an eye. Number One is defined by a quiet juxtaposition that takes a few spins to make itself clear.
Jane Inc.'s debut is an energetic and often inexplicable exercise in nostalgia. The eras it pays homage to and the neon strokes of its sonic paintbrush are ones you've known before, but the way Number One plays with these combinations is groundbreaking. Equal parts Rick James and Toro y Moi, Jane Inc. is a project as eclectic as the bands Bezic has performed in. It's a record that throws convention to the wind, never hesitating to showcase its brazen autonomy.