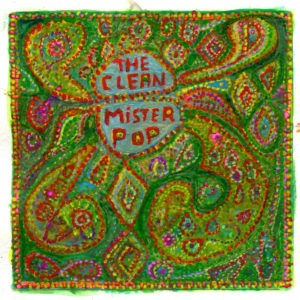 The Clean
Mister Pop
MERGE
7/10
Though The Clean formed in 1978, in that four-plus decades the New Zealand band has only put out six full-length studio albums. Mister Pop was the last of these, first released in 2009 but only now—alongside the simultaneous reissue of 1996's experimental Unknown Country—finding a home on vinyl in the U.S. for the first time. While prolificacy might not be The Clean's strongpoint, the quality of its output hasn't gone unnoticed, and legendary indie luminaries such as Guided By Voices, Pavement, Sonic Youth, and Yo La Tengo all claim the band—comprised of founding brothers Hamish and David Kilgour and bassist Robert Scott—as a huge inspiration on their own work.
By the time Mister Pop came out, those outfits had all had their heyday, of course, but you can still hear, to some extent, both the why and how of The Clean's influence within these songs. At the same time, however, this was a record on which the three-piece moved away from the sound that was so instrumental to the career of those other groups. The gentle jangle of "Are You Really on Drugs?" is a laidback rush of gentle escapism, "Back in the Day" is a lackadaisical journey into a past without any cares or concerns, and the gentle, almost hymnal lilt—full of fragile hope and wonder—of closer "All Those Notes" is quite possibly the most beautiful, stirring song the band has ever written. 
That said, there are two notable moments of self-indulgence here, namely the hypnotic and repetitive buzzdrone of "Moonjumper," which sounds—aptly, given the format of this re-release—a bit like a persistently skipping record, and the insistent, trippy groove of "Tensile," which similarly gets stuck in a rut it can't quite get out of, albeit for a much shorter time than the former song.
Still, Mister Pop is a veritable demonstration of the idiosyncratic charms of these Kiwis, and a reinforcement of their rightful place in the pantheon of quirky alternative rock. Will it spur them on to make another record? We can only hope. This reissue is a timely reminder of their influence, but 12 years since it originally came out is more than a long enough wait for new music.