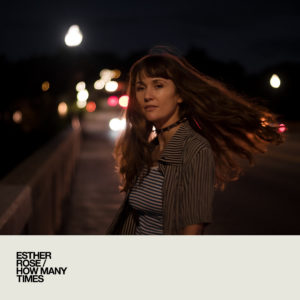 Esther Rose
How Many Times
FATHER/DAUGHTER
8/10
I could be good at bowling. Like, really good. Believe me. If I practiced every day and worked really hard and was motivated, I could be a really good bowler. It's a dumb thought I'm ashamed to admit I've had more than once. Dumb mostly because, well, yeah, working hard at something is how you get good, right?
I bring it up now because it's how I imagine other songwriters might look at the work of singer-songwriter Esther Rose, whose third album How Many Times just dropped. "Sure she's good," they might say. "but she's good at her brand of breezy, New-Orleans alt-country, and I could do that if only I gave it my absolute all and became an expert." You could say it's a kind of back-handed compliment thought process that landed me here, but it's one I can't quite shake. The fact is, How Many Times is a really good, proficient, and sometimes genuinely great record, but ultimately it seems so hell-bent on mastering one thing so thoroughly, it can't quite transcend that very thing. 
Transcendence, I will admit, is a lofty goal for a record, and again, Rose is so good at her thing that you can more than enjoy this record on its own merits. How Many Times is downright pristine, from Rose's honeyed vocals, to the prancing fiddle and yearning lap-steel of her accompanying band—you half expect this record to come with three fingers of bourbon and a cool summer breeze. She uses this precision to truly devastating effect on a collection of tunes I can only describe as tumbleweed love songs. "Keeps Me Running," "Are You Out There," and "Coyote Creek" create a triumvirate of hapless, yearning lovers, the latter two running the gamut from forlorn despair to stirring reunion with all the "old dirt roads" and lonely Saturday nights you might expect. "Keeps Me Running" marks the best version of this tumbleweed love on the record, its indelible image of a woman calmly writing love letters beside a raging fire is one of the most effective opening verses you're likely to hear. 
This is just one example of Rose pushing herself lyrically, furthering the boundaries of imagery in a way she never has, even as recently as her excellent if unassuming 2019 LP You Made It This Far. "She's a little mess, you watch her get undressed / As I lay me down to rest in his bed," opens "When You Go," tossing us into an uncertain world with an equally enigmatic narrator. "Do you ever feel that none of this is real?" Rose asks later, giving the old-timey traditionalism of the song's structure a kind of hovering, ghostly mysticism. "Songs Remain" and "How Many Times" use this lyrical ambiguity most deftly. In both cases, Rose employs the time-honored love song formula she has clearly mastered to express something more metatextual: her love directed toward the very music she loves and creates rather than some kind of stereotypically rugged cowboy. 
It's these little shifts in tone and purpose that stick out furthest on How Many Times, and there is surely something to be said about how they add to an already impressive catalogue, even if they don't drastically rewrite the rules of engagement. An artist like Alynda Segarra of Hurray For The Riff Raff has tread similar ground before, busting through and finding a way to outshine influences and tradition. Rose has very nearly mastered what she does well—an impressive feat, but one that should come with an imperative to push things further on future releases if she is truly going to reach her peak as an artist.