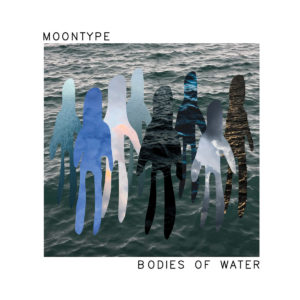 Moontype
Bodies of Water
BORN YESTERDAY
7/10
Moontype makes propulsive pop music that sounds like Sweet Trip covering "Young Folks" by Peter Bjorn and John. The Chicago solo-project-turned-trio took time carefully crafting their debut album Bodies of Water, making music together in a few different incarnations after meeting at Oberlin College before settling into their current form, one which specializes in math rock precision with earworm hooks. While it's not shocking that the band has shared stages with artists like Peaer, Floatie, and Lina Tullgren, Moontype's knack for uplifting lyricism and energetic arrangements sets them apart from their peers.
Opening with what feels like a song's middle section, "Anti-Divinity" makes it clear from the jump that Moontype aren't going to make you work hard to unearth the reward in their music. "About You" is as technically impressive as it is charming: "Lookin' at you with my fuck-me eyes / Do you wanna get inside of mine," Margaret McCarthy sings before confidently talking about wishing she could take molly with an old pal from tour. An ode to a long lost crush that blossomed into a friendship, the track is a humid summertime anthem. Brief-but-compelling, "Alpha"'s skittering, triplet-based intro gives way to frantic musicianship that simultaneously brings to mind Deerhoof and Gram Parsons. Even the record's gentlest moments, "Blue Michigan" and "Stuck on You," thrum with a magical fluorescence. Bodies of Water rarely stays still, but its appeal never tries to outrun the listener.
Tied together by warm production, every recorded sound on Bodies of Water feels like it's within half a decibel of being in the red. The album employs a roaring dynamic that wouldn't be easy for most bands to pull off, but Moontype turns up the volume in a way that evokes drunkenly laughing at a well-worn joke. McCarthy's vocals are occasionally obscured by jangling guitars and pounding drums, which give the record an ecstatic feeling like the one that comes from watching a band crush their set at a basement show.
At almost 45 minutes long, Bodies of Water meanders, especially in its final third. Certain Moontype-isms become apparent over the course of the record, too, as the band repeatedly contrast straightforward rock grooves with syncopated hits. McCarthy's vocalizations can feel unvaried at times, her chirpy songwriting frequently jumping between octaves. Ultimately, these patterns are a commendable sign of consistency more than they are a bother. Moontype is a band with a well-honed sound. It's hard to fault them for playing the same tricks numerous times, considering they play them extremely well.
Bodies of Water is one of the most fun indie rock debuts in recent memory. Moontype are a band cool enough to have a bio written by Sad13/Speedy Ortiz's Sadie Dupuis, who can still get away with writing songs about the simple desire to get fucked up and aimlessly walk around. Platonic companionship is the glue that holds Bodies of Water together. As a year of isolation comes to a close, the album's preoccupation with socializing and hedonism feels refreshing.