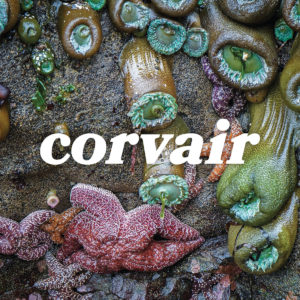 Corvair
Corvair
PAPER WALLS
7/10
Between the two, Heather Larimer and Brian Naubert have appeared on more than 20 albums, but they'd never played on the same one until their debut together as Corvair. Given how stressful and difficult people have found lockdown since the coronavirus outbreak began just over a year ago, you might question the wisdom of the wife-and-husband duo deciding to start a brand new musical outlet together. After all, being in a band is tough enough these days, let alone in the middle of an unprecedented global pandemic the likes of which nobody alive has ever experienced before. One listen to their record, however, and it's immediately apparent that the pair knew exactly what they were doing.
Their self-titled's 10 songs not only draw on the pair's vast pool of experience—Larimer's time, mainly, in acclaimed indie-pop janglers Eux Autres, and Naubert's in admired bands like Tube Top, Pop Sickle, and Ruston Mire—but also from the chemistry of their intertwined personal lives, as well as a wide array of musical influences and a desire to escape metaphorically from the literal trappings of that first COVID outbreak back in March 2020. 
The result is a record that seeks to make the most of a bad situation, and succeeds in doing so. Whether that's the tender vocal interchange between the couple on the insistent but mournful "Sailor Down," the chugging, melancholy lament of "Daily Double," or the fuzzy sonics of "Green (Mean Time)," a song that's as close to a hopeful, heartwarming hug as music can get. "Focus Puller" is equally haunting, a touching, resigned odyssey of longing and regret that ends in a burst and bloom of sonic defiance.
That's because, although Corvair is a journey through darkness, it's always searching—like the best art—for the light. Here, that manifests itself more in both the music (the way the moody electropop of "Tied Island" incorporates some proggy, space-age guitars into its fold, or the playful jerkiness of "Unsubtle Lake") and the pair's knack for abstract (and occasionally absurd) lyrics that dig deep into the heart of humanity. There's perhaps no better example of that than the way final track "Three Stars" offers a gentle guiding hand out of the depths of despair. It might have taken a pandemic for Corvair to make this record, but the foundations the band has laid down here are much, much stronger than that.