Although we're all still attending events virtually, National Geographic is doing what they can to make Earth Day 2021 memorable—the virtual celebration they've planned for Earth Day Eve (April 21) includes a conversation with Dr. Jane Goodall, the premiere of James Cameron's new Disney+ series Secrets of the Whales, a TikTok after party, and, most intriguing to us, live sets from an impressive array of artists including José González, Rostam, Maggie Rogers, Willie Nelson, My Morning Jacket (who will also be premiering a new music video), Angélique Kidjo, Yo-Yo Ma, Ziggy Marley, and more.
"I was thinking of three generations while I was writing this song," Rostam shared about one of the tracks he'll be performing at the event which relates to the program's mission, "These Kids We Knew." "There's a generation of adults who don't see global warming as their problem because they think they won't be impacted by it. Then there's a generation younger than mine, who will certainly have to deal with what is happening. In the song I have a fantasy of the younger generation arresting the adults and putting them on trial in the streets of cities around the world. Those are the 'sidewalk courts' that I sing about in the song."
With José González also performing, and the Swedish songwriter took the time to answer a few of our questions about the event in the Q&A below. Join González and Nat Geo for their virtual celebration on April 21 at 5:30 p.m. PST on their YouTube channel, or at their website.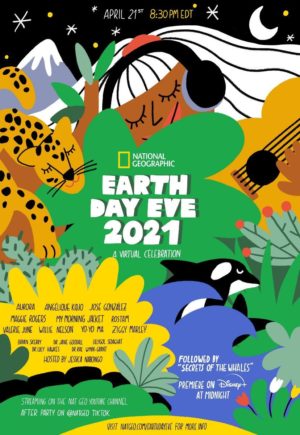 What inspired you to write "Visions"? And are you looking forward to performing it at Nat Geo's Earth Day Eve event?
I was inspired by communities and movements like Effective Altruism and The Long Now that try to grasp how the world works and how we can make it better, always through the lens of science and reason.
I'm very excited to play the song as part of National Geographic's Earth Day Eve event as a longtime fan of the magazine. As a kid I used to look through my dad's collection and marvel at the amazing photos from all around the world. In later years I've noticed how it gave a detailed and nuanced view of difficult topics. Always with a human touch—through the eyes of ordinary people.
How does it feel to be working with Nat Geo on this event? 
National Geographic has always set the gold standard in storytelling that celebrates our Earth in print, onscreen, and on social media. It's exciting that such an iconic institution is now embracing the incredible power of music to reach people. As an artist, my love of nature has always been a huge source of inspiration and I'm proud to partner with National Geographic to share that passion and to help inspire people everywhere to live more lightly on the planet.
What is the place on Earth that most inspires you and your art?
I love it by the forests on the west coast of Sweden. I've made it a habit to be near nature while listening to my demos. With all the variation and beautiful views I get into a calm and creative space to try out words and ideas to the songs.
What gives you hope for the future of our shared home?
I feel hope for the future when I read about what we've been doing right the last 200 years.  Child mortality has gone down dramatically while literacy and basic education has gone up.  There are signs that the richest countries are starting to decouple economic growth from carbon emissions and environmental impact.