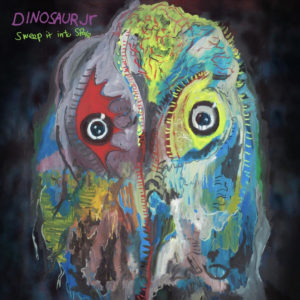 Dinosaur Jr.
Sweep It Into Space
JAGJAGUWAR
6/10
When did Dinosaur Jr. truly reach their apex? Many would say it happened 34 years ago with the release of their landmark record You're Living All Over Me. Some might point to their major label years, culminating in their biggest single, "Feel the Pain." A contrarian might look at their most recent run and argue, nostalgia aside, that this is really their most accomplished period. The truth is, they're all correct. These are all high points for the band that has called themselves Dinosaur Jr. since 1988, but this is a band that has shifted so often in make-up and mission over its near 40-year run that it becomes difficult to decipher what exactly makes Dinosaur Jr. "Dinosaur Jr." 
Therein lies the conundrum of this record and this band as a whole; while there's no doubt about who you're hearing on Sweep It Into Space, or any other record in their deep discography, it can still feel like three or four bands pasted together, each record a compilation of artists we've heard plenty from over the years, and whose best work might be done apart. Their newest record tries its best to wrangle their many lives into a singular vision, but it's hard not to hear the many voices attempting to roar as one.
As much as the current iteration of Dinosaur Jr. has delighted fans and critics who never imagined J. Mascis and Lou Barlow would ever be able to bury their decidedly sharp hatchet, I actually tend to find Mascis' recent solo work to be more endearing, and there are moments on Sweep It Into Space that make me think he might agree. Take opener "I Ain't," whose only discernible difference between the majority of 2018's Elastic Days is a few notches on the volume dial and maybe 25 percent more fuzz. Even the album's first single "I Ran Away," which features the album's only guest appearance—Kurt Vile on a 12-string guitar—has the same muted, campfire drawl Mascis has cultivated on his solo records. 
Then there's the requisite Barlow contributions, always jarring and a bit out of place, but here making for some of the record's best moments. When you hear a song like "Garden," with its unhurried riffs, subtle shifts in tempo, and actual human emotion, it's hard not to wish the Mascis/Barlow collaboration approached a more equitable status. That said, Mascis does rip a pretty nice solo to cap the song off, reminding you how these two made some of the best alt rock ever written. 
I don't want to sound overly harsh, this is a good record and I don't think anyone putting it on would expect anything less. Dinosaur Jr. has become one of the most dependable bands over their long life, a fate few would have seen coming after, say, 1988's Bug, but the very nature of a legacy band like Dinosaur Jr. begs a whole host of questions, not least of which being the precise point of it all. Sure, Sweep It Into Space has its moments, and hardcore fans and completists will surely listen. But when you've been around as long as Dinosaur Jr., the question of "why" seems at least a little relevant. Of course, maybe you're not worried about the "why," maybe you just want to hear some tasty licks—and in that, Sweep It Into Space delivers.