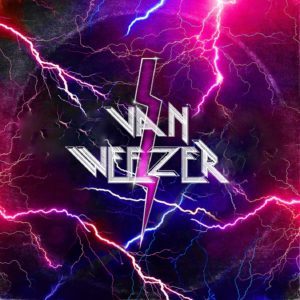 Weezer
Van Weezer
CRUSH MUSIC/ATLANTIC
6/10
When Jawbreaker vocalist Blake Schwarzenbach sang "Expect the best, accept the worst" on "Chemistry" back in 1995, it wasn't in reference to Weezer. Yet those words—released the year between Weezer's iconic 1994 self-titled debut and their equally iconic 1996 follow-up Pinkerton—would certainly become both prophetic and appropriate for Rivers Cuomo's outfit as the years went on and the law of diminishing returns played itself out across the band's discography.
And so, just a few months on from the pastoral and orchestral, Radiohead-baiting (and not-actually-that-bad) OK Human comes this long-awaited 15th studio record. It is, as its awful title unashamedly projects, a tribute to the hard rock and metal acts that Cuomo grew up on, and which served as (mostly) inaudible inspiration on Weezer's early output. And it's much better than that awful title suggests. But then, that's the thing about Rivers Cuomo—he's an incredibly talented songwriter, not just musically but also in his ability to combine pathos and humor. Few can do that like he can. But then, he's also written "Beverly Hills." Thankfully, while Van Weezer might not be a return to the truly great heights that the band—completed by drummer Patrick Wilson, guitarist Brian Bell, and bassist Scott Shriner—have scaled in the past, it's far removed from that Los Angeles–themed travesty.
For starters, the metal/classic rock/cock-rock flourishes that pepper songs like "Hero," "The End of the Game," or "I Need Some of That" aren't as schlocky or sloppy or cocky as they could have been. They're certainly salient aspects of those songs—the latter not only references The Cars' "Just What I Needed," but the chorus is such a clear tribute to Blue Öyster Cult's "(Don't Fear) The Reaper" that BÖC's frontman Buck Dharma is credited as songwriter on it—but at the heart of it all is that charming naivety that defined Weezer back in those early days. These songs might not sound geeky or nerdy in the same way as "Buddy Holly," but their devotion to the bands of Cuomo's youth (and the recreation of his emerging identity from that time period) is just as endearing, albeit in a different way. 
Elsewhere "Blue Dream," with its insistent power-metal riffing and rather ridiculous, almost Beatles-esque lyrics ("The octopus says, 'Hi' / I say, 'How do you do?' / He's quite the gentleman / To give me eight salutes") manages to find purity in the absurd, while "She Needs Me" celebrates the dumb little things that make a great relationship possible over a chugging melody. It all comes to a close with the sunnily plaintive "Precious Metal Girl," an acoustic love song that extends its obvious metaphor way too far, but still manages to be utterly sweet. Ultimately, like much of the rest of the record, that's because it doesn't feel or sound disingenuous, ironic, or affected. That's where Weezer have been faltering for far too long, and it's a trap this record almost seemed set up to fall into. It doesn't. Expect the best, accept the not-quite-as-good-as-their-best-but-still-very-enjoyable.