This past year has been one of reality checks and steep learning curves for music industry creators and executives alike. As in-person live shows tentatively announce dates again, new practices in the areas of live streaming, fan interaction, and direct-to-consumer products will remain in place, shaping a "new normal" for both creators and their audiences. Like many musicians, Grouplove—whose album Healer was released the week of the first lockdown—spent some time on Instagram Live before many of these alternatives were explored. This happened in the wake of having the plug pulled on months of tour dates and all conventional promotional activities for the band. They soon stopped to focus on writing another album. 
Exactly one year after Healer, Grouplove released This Is This. Unlike Healer, the group has a hybrid performance approach in place for their new album. Starting on March 11, the day before the release of This Is This, Grouplove began its "This Is This Moment" live stream concert series on Moment House—the high profile, but not particularly original, digital live platform. Grouplove's subscription-based series is priced at $9 a month, airs the second Thursday of each month, with a 24-hour viewing window. The program changes each month, ranging from entire album performances to acoustic performances from the back of Grouplove's tour bus.
"This subscription gives anyone in the world the opportunity to tune in and be with us," says Grouplove's Hannah Hooper. "It's going to be really exciting to continue that once we go on tour. We can give people a different look into our lives and into our music than we would on stage. We can continue to evolve and use this as a developing installation and experience for our fans."
When the pandemic began dragging out, many creators put some type of subscription model in place. This approach benefits both sides: The creator can count on a set amount of income direct from their most dedicated fans who, in turn, enjoy exclusive and regular content from their favorite creators. Patreon has been at the forefront of this model, putting the control in the creators' hands. With tiered subscription options determined by the creator, higher membership levels garner increasing degrees of products, content, and access for members. Under non-pandemic circumstances, musicians rarely have the bandwidth to provide the kind of content that justifies the cost of a Patreon membership. 
Prior to the pandemic, RAC polled his audience on social media and had a firm idea of what they would want to receive in terms of a subscription. He had his Patreon set up and ready to launch, coincidentally, the same week as the first lockdown. "Patreon is a solid solution to the problem of the lack of income from recorded music," says RAC. "The music industry was already dying because we were only relying on live performance. We didn't have anything else. That was the big wake-up call for everybody. That's when everyone looks at other solutions, Patreon being one of them. The direct-to-fan model is pretty awesome."
The drawback to this model is how cost-prohibitive it is to subscribe to all the creators you're a fan of. Even at the rate of $5 or less per month per musician, that can add up fast. RAC points out that subscribing is geared toward the superfan, who may only support one or two creators directly, more so for the perks than anything else. It's not about the number of subscribers, but their dedication to the creator. RAC's core fanbase of 159 members on Patreon has replaced his touring income, giving him the first monthly paychecks of his musical career. With that comes stability and the ability to budget and plan. This is a much better outlook for him than existing in a state of anxiety over what the numbers will say when he gets a statement every six months or so from his label and streams.
"Subscription is a holy grail because it's ongoing revenue," says Tim Westergren, co-founder of Sessions, one of the more unique live stream platforms that not only accommodates established artists resulting in significant returns on their live stream performances, but is also able to help generate income for artists who don't have a fanbase yet. "You're charging people for a product over time, and the question is, how long will they keep subscribing? It can't just be a transaction, it has to be something more than that. It has to involve participation."
"We should be making our own communities that are specific to our interests," says RAC. "Formulas and algorithms force you into a box, and you have to work within a system. The idea of personality was taken away from the internet. The internet should be a far more eclectic, interesting place. There's a movement called 'The Creator Economy.' Patreon is just one of the pieces of the puzzle. We're moving away from mass market appeal to more niche markets and monetizing the niche markets. That, to me, is a more sustainable model than trying to compete with Drake or Katy Perry."
What RAC wasn't expecting was the community that has developed around his Patreon. These fans don't only interact with him, but with each other, particularly on his Discord server and when he appears on Twitch. "I had a loose relationship with my audience," says RAC. "I would post stuff on Instagram, they would like it or comment on it and I would maybe reply here and there. There wasn't a dialogue, and they were definitely not talking to each other. It's something special when people start talking to each other and it turns out they have a lot more in common than just me.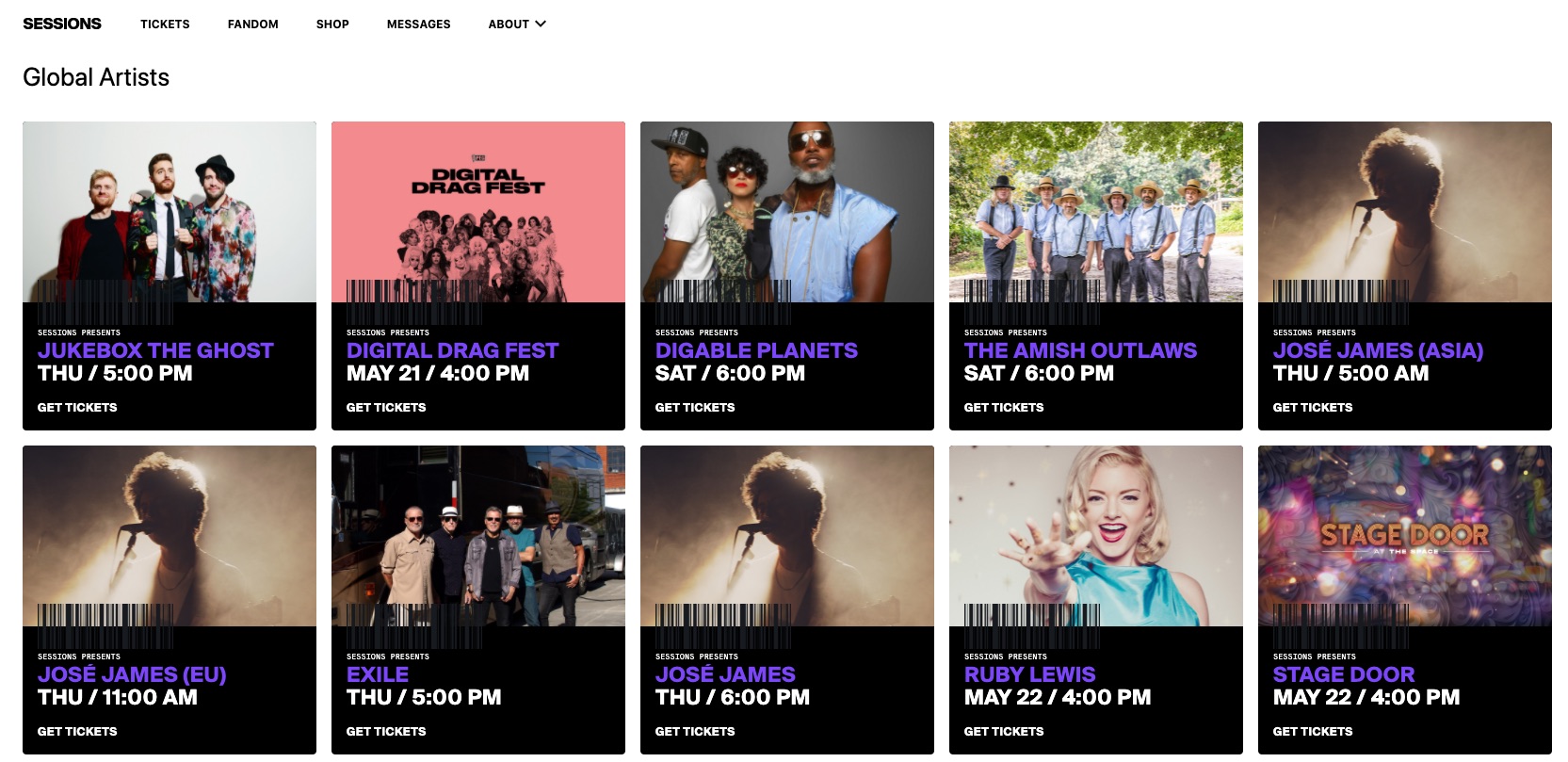 "My relationship to my audience changed," he continues. "Normally, you work in a vacuum writing an album for three years. It takes six months to release. By the time it comes out, I'm moving on to something else. It's very disconnected. Now, it's a much more direct relationship where I feel I can create something and add value to my community. Everything I do has a real-time reaction and it's much more exciting. It's a much more wholesome model to me. I'm much more motivated to work for those people on Patreon than my millions of Spotify listeners."
Community is a product of consistency, which is one of the main pillars of not only live streaming but fan engagement, which leads to increased loyalty to the creator. SOFI TUKKER, who stream daily, are flag bearers in the live stream space, experiencing numerous benefits from their consistency. Over the course of the 24-hour replay of these streams—which just tipped the 400th consecutive day mark—the duo has attracted up to 300,000 viewers in a week. Finding each other in the chats during the live streams, the Freak Fam—as their community calls themselves—started its own 24/7 Zoom, which has breakout rooms like book club, yoga, and games. "We always wanted to make it our priority to create community while we're on stage and not have it be a one-way performance," says Sofi. "It wasn't until the pandemic where something clicked and it really felt like a co-creation."
People from the Freak Fam Zoom community have fallen in love, moved across the country, and gotten engaged. They're always involved in SOFI TUKKER's activities, whether it's being sampled and played back on the spot in a DJ set, or giving feedback on in-progress songs. "We've had strong hard tickets going for a while," says Tukker. "But this is a whole other thing. People were home, alone, isolated, scared, lost their jobs. They really needed something to grasp onto: a community, friends, consistency. Because we do it every day, it helped a lot of people's mental health to anchor their day around something. And we really leaned on it. It brought us a lot of energy and purpose." The live streams are free and sponsor-free for now, but SOFI TUKKER's merchandise sales have quadrupled and the dedication of the duo's fanbase has increased exponentially. They see it as an investment in themselves and have no plans to stop the daily stream once they hit the road again. 
With Restream, SOFI TUKKER's live streams broadcast on Twitch, Instagram Live, and Facebook Live simultaneously. It's on Twitch, however, where the two feel they can connect the best with their fans, primarily because of the green screen capabilities and chat functions. With its built-in tools, Twitch is a natural platform for interaction which engages the audience and makes them feel part of a one-on-one fan club experience. A direct connection is established for creators who engage with the audience when they see them utilizing the interaction options that Twitch offers, for example, bits (which is what Twitch calls tips) or subscriptions. And if you have 20 subscribers at $5 each, and you're able to buy a better microphone for your stream and you let your audience know that, it makes them feel like they contributed and are being rewarded for their participation and interaction. 
"When a music creator joins Twitch, they tap into an incredibly engaged community," says Will Farrell-Green, head of music content at Twitch. "The audience is used to supporting creatives. If you're consistently streaming and you tap into that community, you can make a lot more money than you would performing live or getting your music distributed through a label. If you have 200 people watching your stream—playing to 200 people is quite a big deal if you're in a physical venue—and those people are also contributing money as you go, it's very exciting for the creator."
Portugal. The Man used Twitch as part of their triple-header live stream, "Oregon City Sessions." The group streamed the show on their YouTube channel and on Twitch while at the same time hosting a co-viewing and Q&A event on their Discord channel. Access to the Discord channel was only available to viewers with 10 or more PTM Coins, Portugal. The Man's cryptocurrency. "It's the Wild West with every content creator getting a crash course in A/V," says PTM's Eric Howk. "We didn't know what was going to work. We knew there was this world of content going up and we wanted to be able to get our content out. We're still not absolutely sure what the underlying, foolproof way to do it is. It's an ongoing experiment."
School Night, the tastemaker brand known for championing emerging creators, has entered a partnership with Twitch for an artist discovery channel, "School Night at Home." School Night shifted to live streaming, initially once a week as "Home School." Since April of this year, School Night increased consistency and frequency to twice a week, on Mondays and Wednesdays, with creators from all over the globe and a subscription option. "We're still trying to figure it out," admits Tom Windish of Wasserman Music who has joined forces with School Night. "The numbers have been all over the place. You've got to keep doing it and building it. We've had 50,000 viewers so far, which is more than three years of the live version of School Night."
Established brands like School Night are essential in the live stream space where, unless you're a creator with a massive fanbase, it's difficult to get attention. Vans has also put its considerable profile and credibility behind providing a platform for creators with its daily live streams called Channel 66, featuring a cross-section of programming which runs five days a week, morning to evening. Channel 66 is streamed live from Los Angeles, Brooklyn, Miami, and Mexico City where Vans has built studios expressly for the live streams, which will continue indefinitely. "Channel 66 is community radio meets public access TV," says Brooke Burt, Vans' Senior Manager of Lifestyle Brand Marketing. "Part of the vision was to tap into cultural institutions in these four cities to plug into the programming. We have partnerships with music venues, independent record shops, and skate shops which you'll see sprinkled into the programming. It's going to be interesting once the world opens back up to find that balance with them." 
Family Night, a live monthly variety program on the relatively new streaming service Eternal Family, is also providing a space for creators, and a small remuneration fee for appearing on the show. "The pressure on artists is very low stakes," says Family Night's host Jay Humor. "We're very open-minded. We want people to try things that they haven't tried before. We've been able to connect with a good number of very open-minded people who are interested in art that isn't shown in most other spaces. We want as much interactivity as possible to build a real community feel."
Many emerging creators don't have an offer to live stream from an established brand. For creators who are looking for a reliable, easy-entry platform, StageIt, founded 10 years ago by Evan Lowenstein of Evan and Jaron, is a creator-focused place. There's no gatekeeping mentality at StageIt—all a creator has to do is sign up, set up a show, and perform. StageIt's shows are all live with no recording, rebroadcasting, or redistribution. They start on time without rewind capabilities. Shows on StageIt are all paid, and creators have access to all the data for the viewers of their shows. Like Twitch, StageIt also offers a tipping component.
StageIt set up a venue program last year, streaming from traditional, and non-traditional spaces. The goal was to get venues used to live streaming, while providing a revenue stream for them, and creators, at the same time. Says StageIt's CEO Stephen White, ""90 percent of consumers say they're going to continue to consume live streams when live [music] comes back. 90 percent also say they're going to go back to live events. We want to be on hand when artists are ready to stream when live comes back. The future is hybrid." FL