Five years since David Bowie fell from Earth—with no slowing of personal product rare and underappreciated—it's the tributes to the iconic artist that continue to amaze and amuse, with the best of them being unobvious and ever-so-slightly angled to the left, and always turned to face the strange. In the case of photographer Masayoshi Sukita's Eternity volume of snaps for ACC Art Books, and BBE Music founder Peter Adarkwah's label-curated (with DJ Drew McFadden) tribute, Modern Love, that view askew also happens to show Bowie (and his followers) at his (and their) most feline, fragile, soulful, and uniquely focused. With both projects, each of their Bowies is unlike any other Bowie witnessed before. 
The Sukita book is meant to capture the renowned Japanese photographer at 80, looking backwards to focus forward. And while the gorgeously appointed hardback portfolio features everything from his on-set photos of cinematic auteur Jim Jarmusch's cult flick Mystery Train, along with iconic images of 1977-era Iggy Pop, Marc Bolan at his hammiest glam poseur stage, and The B-52s at their most colorful, it's Sukita's photos of Bowie that will floor you—especially when you consider that Masayoshi, like Brit rock snapper Mick Rock, captured Bowie before everyone else.
"It's very hard for me to accept that Sukita-san has been snapping away at me since 1972, but that really is the case," wrote Bowie in a selection documented in Eternity. "I suspect that it's because whenever he's asked me to do a session, I conjure up in my mind's eye the sweet, creative, and big-hearted man who has always made these potentially tedious affairs so relaxed and painless. May he click into eternity."
It's Sukita who first—and best—showed off Bowie's young gender-defying swagger, icily angular face, and Japanese-inspired fashion sensibilities. In these earliest of photos, at the dawn of Ziggy Stardust and its lightning-fast morph into Aladdin Sane, Sukita steals Bowie's soul (and steels his cheekbones) as the precocious henna-headed rocker possesses the camera with two differently colored eyes (how jarring at first), crooked fangs, and a sculpturally arching design engulfing his body. Not even five years later—and in black and white, yet—Sukita captures another version of the artist, an actorly and isolated Bowie at his most insect paranoid for a series of photos for his 1977 Heroes album. The stare is no less cutting, but, there's more emotion that was hard won, those emotions (or masks) more fearful and ferocious  and abstract, too, to say nothing of Bowie's spidery webbed fingers and hands splayed across his face and tugging at his hair.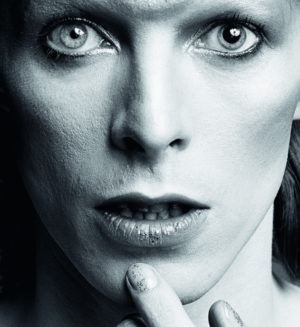 There is more Bowie to be found in Eternity: a manicured, mustachioed one for Tin Machine, a blonde bouffant toting one for his Let's Dance golden boy era. Yet nothing serves the photographer, the photographed, and the feline grace between them more than those disturbing, alluring Heroes photos and the younger, more colorful self snapped in 1972. This same feline fussiness—with wide, sharp focus as its guide—is what makes the Modern Love tribute compilation so awe-inspiring and magical.
Unlike recent Bowie appropriations like those made by Yungblud and Duran Duran—literal minded and sweetly sane—the artists representing Bowie across his catalog on Modern Love were told to consider the other side of Bowie: the jazz Bowie, the soul Bowie, the gospel Bowie, the space Bowie, and the soft Bowie. With that, multi-instrumentalist Matthew Tavares' "Heroes" is equally as, uh, heroic as the original, but with a long, winding Coltrane-like saxophone solo fresh from A Love Supreme, a skittering rhythm, and a breathy vocal. His "Heroes" finds the dynamism and the spirituality of Bowie's spare, epic melody, only now in a jazz setting.   
To that end (and that texture), you would have to imagine just how much of an inspiration the light, dark, and shade of Bowie's avant-jazz-driven Blackstar was on Modern Love's overall proceedings. Like having fussy, future-forward Chicago jazz guitarist Jeff Parker and The New Breed (featuring vocalist Ruby Parker) appropriate Bowie's Ziggy-era "Soul Love" for something spacey, spacious, amorphous, and gently atonal. The blurriness of moody guitarist Parker's arrangement opens its original melody up like a bay window on a hazy Hamptons morning filled with fresh possibilities. "Golden Years," as performed by Parisian singer and guitarist Léa Sen, is a softly spun, jazzy samba. Khruangbin's flighty group vocal version of Bowie's plastic soul, "Right," is equal parts dub and Philly R&B, Lee Perry meets Kenny Gamble. Nia Andrews' "Silly Boy Blue" also takes one of Bowie's most ignored but showy melodies, ripens and softens it, and makes it into a deliciously cinematic slow song. Even the usually strummy "Space Oddity" turns languid and funky in the hands and mouths of We Are KING.
The cat-eyed twinkle of both Helado Negro's "Sound and Vision" and Kit Sebastian's '60s spy-mance soundtrack for Lady Grinning Soul benefit from tinkling celeste-like tones and softly clicking guitars. Only Helado does Bowie's Low hit less as an electronic disco blip and more as a chamber ballad quietly sung, while Sebastian all but belts out like Shirley Bassey a la "Diamonds are Forever," and waits for the luger to go off. Then there's the Lodger-period highlife of "Fantastic Voyage," which Meshell Ndegeocello turns into a cluttered, muffled, mumbling ballad filled with innuendo, gender switches, and rumor. Like Sukita's eye for Bowie across the ages, the collective vision of Modern Love is feline, yet focused, and always rapturous. FL