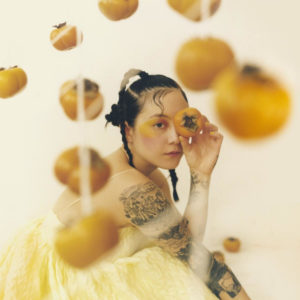 Japanese Breakfast
Jubilee
DEAD OCEANS
9/10
As we (hopefully) reach the last gasp of the coronavirus pandemic, recent weeks have seen an onslaught of new releases from major artists, touring announcements, and general newsworthy developments in the world of music. But few people have as much to celebrate as Michelle Zauner: the mastermind behind indie pop band Japanese Breakfast just released her memoir, Crying in H Mart, to critical and commercial acclaim (it debuted at #2 on the New York Times nonfiction best-seller list), even optioning the rights to MGM for a film adaptation. And just over a month later, Japanese Breakfast released their third and best album yet, Jubilee. It's the sort of statement so well-chiseled and superior to its predecessors that it scans as a breakthrough, even though this is a band well past the breakthrough stage.
After spending some time with Jubilee, I'm struck by how classic its structure is: it's front-loaded with its most melodically immediate songs; it has a softer (but equally substantive) center; "Tactics" is a classic sweeping, penultimate ballad; "Posing for Cars" (with its cathartic solo that Zauner has likened to the bloodletting that caps off Wilco's "At Least That's What You Said") is the extended emotional release at the end.
But if its arc echoes that of other great albums, Jubilee is still frequently surprising and adventurous. "Savage Good Boy" is an approachable pop confection with a sticky, snarky conceptual hook at its core; it's written from the point of view of an absurdly rich man trying to convince a woman to flee earth with him in the face of apocalypse (and who knows, maybe seize responsibility for repopulation! We'll sort that out later…). "Be Sweet," co-written with Jack Tatum of Wild Nothing, was meant for another artist but Zauner opted to keep it; here, it casually becomes one of the most undeniable '80s-influenced pop songs you've ever heard.
The album's title isn't unearned; stretches here do feel jubilant, including the sunny horns of opener "Paprika" and the propulsive, effervescent climax of "Slide Tackle." Zauner has even said that this is an album about joy. But the band is still inclined to delve into weighty thematic terrain. "Kokomo, IN," a staggering early-album highlight, imagines a young couple parting ways so amicably and maturely that it circles all the way back to devastating. And brace yourself (I certainly hadn't) for "In Hell," a gutting ditty about a dog dying. The heartbreak and the triumph all coexists with ease; Jubilee suggests that it has to.