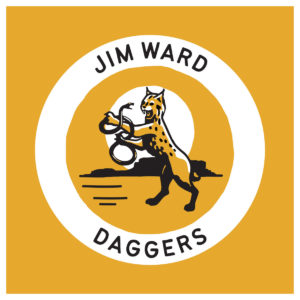 Jim Ward
Daggers
DINE ALONE
7/10
Cedric Bixler-Zavala and Omar Rodríguez-López tend to get most of the attention when it comes to all things At the Drive-In. That's likely because, after the iconic post-hardcore band's dissolution, the pair went on to form The Mars Volta, and have continued to play together in some capacity ever since. Their reckless stage presence (and voluminous hair styles) probably have something to do with it, too.
Yet Jim Ward—who founded At the Drive-In with Bixler-Zavala in 1994, before Rodríguez-López was a member, but wasn't part of their most recent reunion—shouldn't be overlooked. In 2001, he formed the underrated Sparta with former ATD-I members Paul Hinojos and Tony Hajjar, who released their first album in 14 years last year. While he's nowhere near as prolific as Bixler-Zavala and Rodríguez-López (remarkably, the latter released 23 albums in 2016 and 2017 alone), he's also put out a number of solo EPs and a couple of records with his alt-country outfit Sleepercar. It's perhaps surprising, then, that Daggers is Ward's debut solo full-length.

Written during the pandemic and featuring Incubus bassist Ben Kenney and Thursday drummer Tucker Rule, it's a collection of 10 emotive, heartfelt rock songs. Musically and lyrically less abstruse than anything (and everything) his former bandmates have ever done together, Daggers instead stabs directly into the heart. Opener "Day by Day," for example, is a straightforward and fevered search for empathy that lasts less than two minutes, while "Blink Twice," which follows immediately after, is a boisterous anthem that, oddly, is equal parts Foo Fighters and U.K. rockers James. 
That tussle between nuanced indie-pop and aggressive stadium rock is played out numerous times on this record, but rather than one side winning, both coexist awkwardly but happily. The best examples of that are the melancholy resignation of "Keep on Failure," the tenderly bombastic "Foreign Currency," and the more defiant and delirious "Electric Life," though "Safe Pair of Hands" and the minor-chord moodiness of closer "King Yourself" are equally rousing. Only the overwrought rock 'n' roll histrionics of "I Got a Secret" don't really work—but in the moments the song does manage to battle against that, it mostly undoes that damage. Still, that's an easily overlooked blip on a record that has plenty to offer for followers of Ward's career and casual listeners alike.